What is the best ceiling in the bathroom
This question naturally arises when renovating in this room. In fact, it will make the bathroom desirable and beautiful at the same time durable and modern. In this material, we will tell you how to do it with these requirements and what ceilings are needed to choose this space.
Features of the bathroom and the requirements for the ceiling for this room
This room is very humid, so you need to finish it with a waterproof material. Taking a shower can accidentally direct jets of water toward the ceiling. You may also accidentally spill water on the ceiling. What happens in the bathroom? For example, the adjacent faucet is forgotten to turn or the washing machine runs.
You still have to deal with dampness. The ceiling is easy to deal with. Wiping with a rag is ideal. However, in this small room there are usually items that are problematic to move and wipe off the moisture different appliances. Climbing on the washing machine is very uncomfortable and impractical and sometimes there is no room for a ladder.
Well, you can't miss the aesthetic requirements. The bathroom ceiling fits well with the bathroom and the apartment, style and interior. Take scented bath foam, for example – it looks great.
Is this type of ceiling suitable for use in the bathroom?
Since the basic requirements for the ceiling in this room are known, we take into account how this ceiling coating meets this requirement.
Strengthening the ceiling in the bathroom, Aligning the ceiling in the bathroom, Painting bathroom ceiling
It's relatively easy and relatively inexpensive. Paint and putty are inexpensive, and you can do all the work yourself. However, this option is advantageous if the base of the ceiling will be fairly even. Then puttying and leveling the foundation is not required. In this case, you should not forget that all materials – paint, primer and putty – should be water-resistant. If there are significant irregularities between the ceiling tiles, the process of leveling the ceiling with putty can be time-consuming, so it is better to give preference to other options.
Here is a list of the disadvantages of this approach (but it can often be an advantage):
Painted ceilings do not shine with originality, but they contain imagination and allow you to combine two or three colors in a variety of bold combinations.
Painting ceilings – 10 years with aging (but only if there is no flooding from the neighbors).
Combat unevenness and dark spots is not difficult. The main thing that the paint would not absorb the dust, (sometimes) paint over a dark color is impossible. However, freshening the ceiling is very easy. Paint the ceiling with a brush or roller, and the surface will be clean again.
Lighting can't hide all your desires. But you can buy a beautiful pendant light, which will decorate your bathroom. Alas – you can't hide communications under such a ceiling either.
I'm sure it's no secret to you that it is on the ceiling most often settles fungus and mildew.
As you can see from a practical point of view, such a ceiling is not very good. However, there are other options.
PVC plastic panels are lightweight and inexpensive.
PVC plastic ceiling panels
When deciding which ceiling to use in the bathroom – many people choose PVC panels. It is relatively durable and absolutely waterproof. They can be mounted on their own, they look very beautiful and do not require additional finishing. The surface does not require special care, it will be nice if you periodically wipe it with a damp cloth. The design of such a ceiling allows the installation of spotlights.
Well, immediately list the disadvantages of such designs.
The joints of the individual panels have seams that eventually get dirty. And it's not pretty, but you can fix it by doing regular cleaning. Worse, if the ventilation in the bathroom is bad – the cracks don't collect dirt, but mold will develop, and it will be much harder to get rid of.
Also, metal frames can deteriorate over time. Galvanizing doesn't help either. This can happen with poor ventilation of the room and high humidity.
Be prepared for the fact that updating such a ceiling is not difficult and quick. Once the old plastic is completely removed, you just have to install the new one.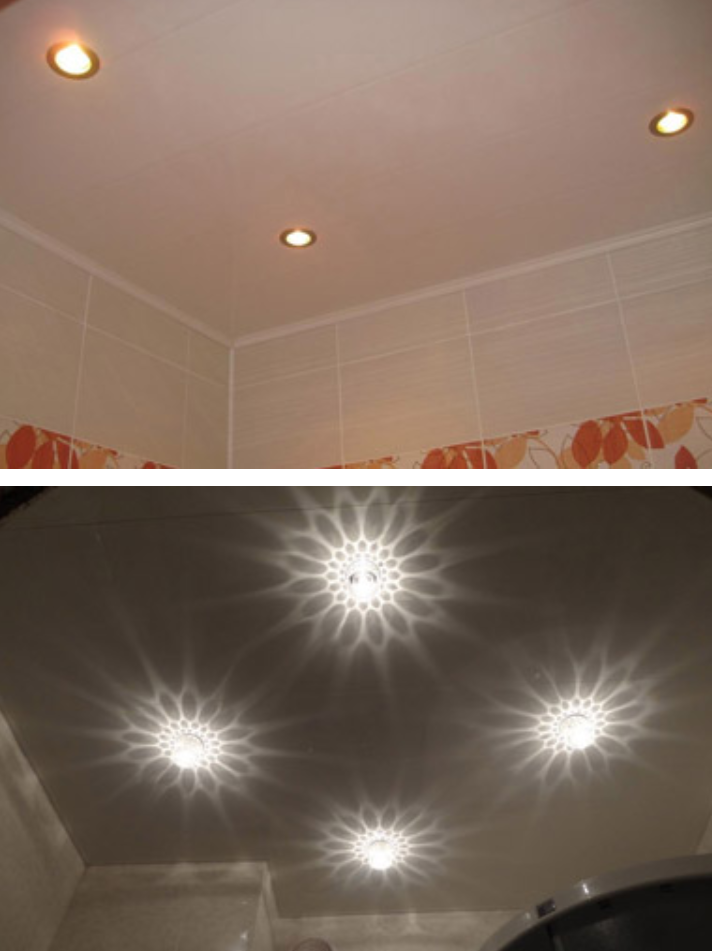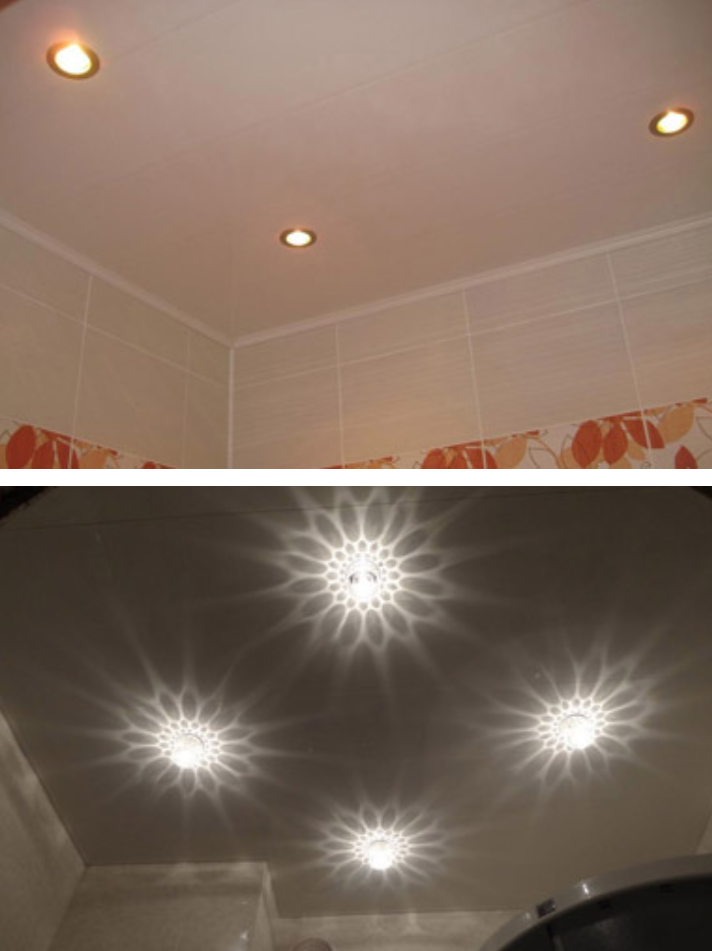 Roofing ceiling
Roofing ceiling – beautiful, durable and stylish
Roofing ceiling – beautiful, durable and stylish
Stretch ceilings are also assembled to the framework. The lath is a narrow and long panel. It can be plastic, steel or aluminum. Of course, aluminum is better than metal. It is completely waterproof and does not "break down" due to corrosion. The panels are available in plated, chrome, solid colors and patterns, allowing for a variety of colors for rack ceilings. It is also mounted on the shoulders of the armature and assembled with a constructor. Controlling the light of the ceiling is very easy.
Therefore, when choosing the best bathroom ceiling, many people choose lath ceilings.
It is also very convenient to fix the lamellae so that they are flexible enough.
This way you can make such a ceiling, on which there are curved lines.
The glossy surface of sheet metal is reflective, and the ceiling looks like a mirror.
However, this property can be seen on some ceiling tiles.
Between them, you can pay attention to the dirt stitching of the seams between the panels.
As a rule, clean seams are not noticeable, but become darker when dirty.
However, this problem is easy to solve. Sometimes you even have to remove the ceiling.
Plasterboard ceiling
This construction is made of wood or metal. However, you should not use wooden frames in the bathroom. After installation, the frame should be sewn with water-resistant plasterboard, which contains additives that protect it from mold and excessive moisture.
Such ceilings allow you to decorate the bathroom in an original way. After all, it can be multilevel, as well as to play up the array of lights built into the frame. Hiding all the flaws and irregularities of the ceiling, ventilation and wiring, you can get a beautiful and durable ceiling. The service life of 5 to 10 years.
Disadvantages of using drywall ceilings in the bathroom:
Unfortunately, the installation of such structures is not cheap. You need to build a frame, fix the sheets, and then do the rest of the business of puttying, priming and painting.
Self-installation requires time and labor. It is also necessary to periodically renew the joints.
Like a painted ceiling, over time inevitably absorbs dust. However, the construction itself does not require such replacement or repair.
Tile suspended ceiling
A similar framework can be used to make a finished ceiling called a ceiling tile. The result is a cassette or honeycomb ceiling. Unlike plasterboard, it does not require priming or painting. After all, the surface of this plate is already treated. They can be made of different materials. In particular, moisture-proof modules made of Plexiglas, metal or plastic, mineral plates are used for this purpose. It looks beautiful and a little magical. A lightweight structure.
What are the disadvantages of using ceiling tiles in the bathroom?
Everyone knows, not all ceilings are suitable for a cozy bathroom environment and in the whole apartment. Sometimes it looks cold, semi-formal, and it all wants to unofficially move to a public toilet. But it all depends on the style of the bathroom interior. For example, if it is minimalism or high-tech, then such a ceiling is very organic to the design.
Mirrored ceiling
In fact, the ceiling looks great if you use a mirror. However, such a construction is expensive. The frame needs reinforcing metal (almost like drywall). Every hole must be drilled to attach the mirror to the frame. All of this is assembled only by skilled craftsmen, but it lasts a long time. To take care of the mirror surface, you need to wipe it all down thoroughly.
There are budget options for mirrored ceilings in the bathroom. The cost is several times less. For example, you can install glossy plastic panels on the Armstrong system. Installation is fast and simple. Masters who are not familiar with this type of work can cope with it. However, the frame of this system is fragile and not resistant to corrosion.
What are the disadvantages of using a mirrored ceiling in the bathroom?
This ceiling radiates a lot of light. Also, the ceiling is lows and this is not to everyone's liking. Because the surface is symmetrical, it has the same difficulty as a regular mirror in cleaning the surface.
However, while regular mirrors will be easier to place upright. Mirrored ceilings will be much more difficult to care for.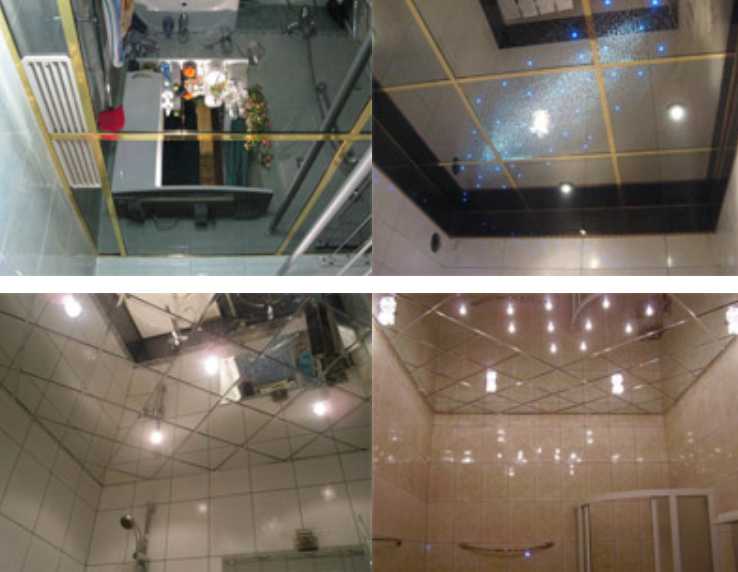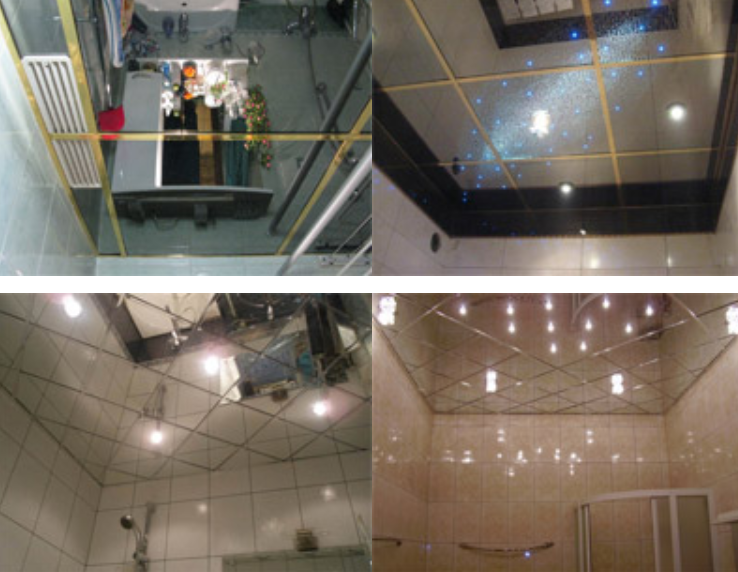 PVC stretch ceiling
PVC stretch ceiling – which will not let a drop of water through.
It does not get wet and protects walls, floor and furniture from flooding.
If you pour the entire "lake" (up to 100 kg per square meter) into such a ceiling, nothing will happen.
Experts sprinkle salt and stretch the ceiling. And it does not change its attributes at all.
Care for stretch ceilings is to wipe them when moisture is distributed.
We also believe that stretch ceilings fit any design and look modern, noble and stylish.
Many color and design options are available. Matte and glossy photo and monochrome, photo print and embossed pattern.
You can choose for every taste.
Addendum – about the disadvantages of using it in the bathroom:
Installing a stretch ceiling requires a trained professional.
You yourself do not even try to install a stretch ceiling. You can damage it.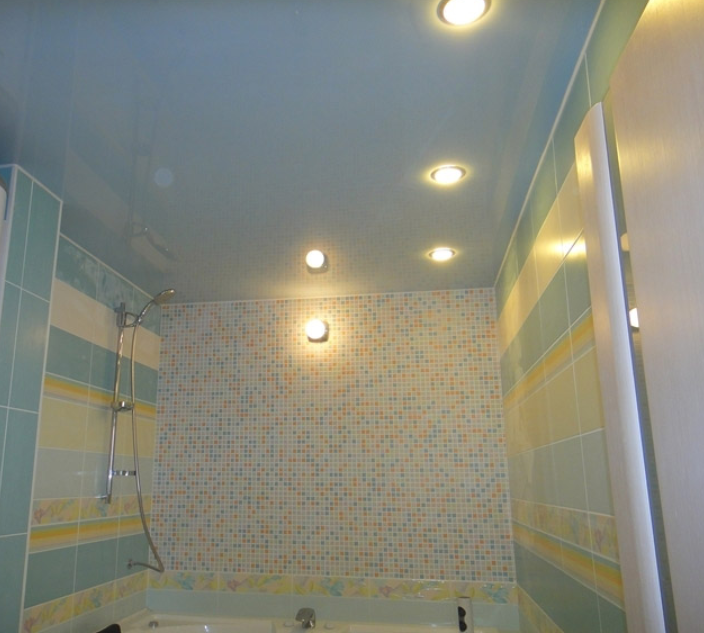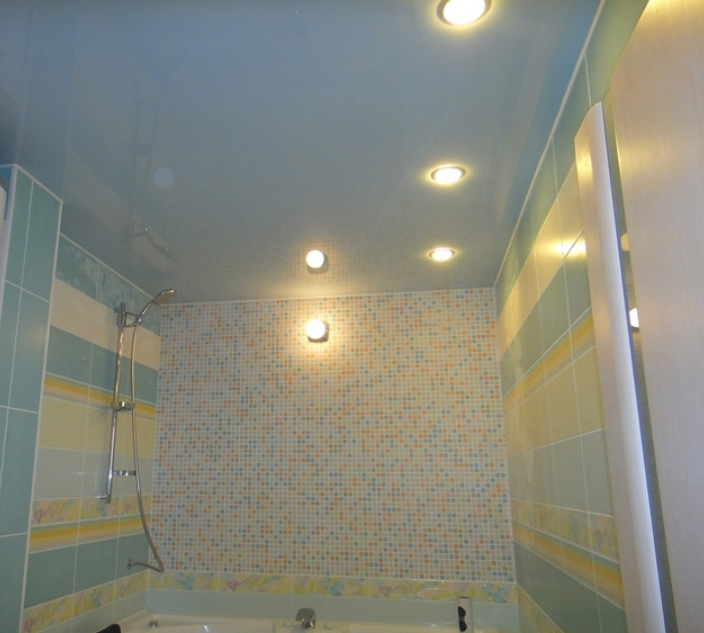 Decide on the type of ceiling in your bathroom. Choose the ceiling in terms of design.
As already mentioned, first think about what the design of the ceiling (and the entire bathroom) blends with the interior of the apartment.
For example :
"Classic" is the Snow White version. And it is possible with a tensioned design and without drywall, trim or suspension, built-in lighting.
Sleek – a smooth white surface (possibly painted) will suit any interior. The combination of a white ceiling and a black floor (sometimes a wall) looks especially good.
Textured ceilings allow you to "play around" and visually make them wider or narrower, higher or lower, depending on the size of the bathroom.
Modular, tile, shelf and honeycomb designs can be transported in this way. All of these ceilings showcase the solid texture of slats or tiles.
If the bathroom is large, you can use a multi-tiered ceiling.
It is easier and cheaper to make drywall. For example, a round convex design with a lamp over a round bath looks great.
Which option should I choose from a practical point of view?
Considering the ceiling in the bathroom, perspective design is not recommended, but in the real ceiling coverings are sure to provide the first tension and PVC ceiling panels. Ideal for stretch ceilings in bathrooms.
More and more people are not choosing this option. PVC is a practical and beautiful thin but water-resistant film.