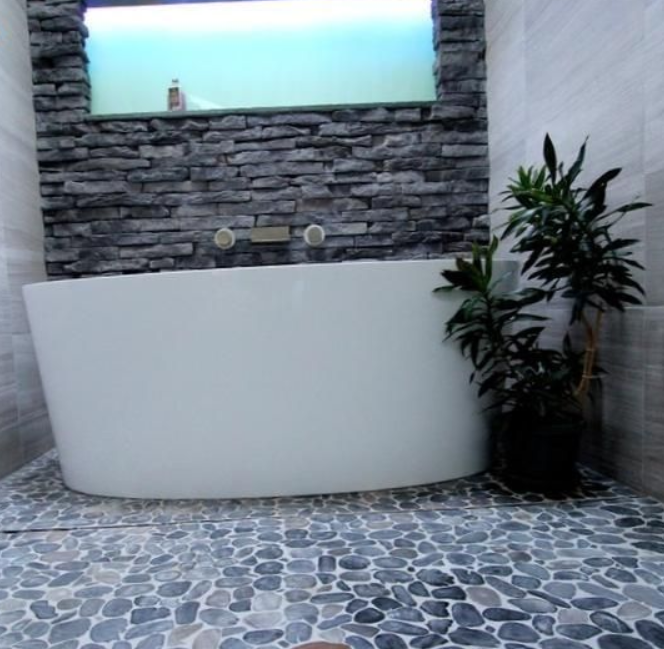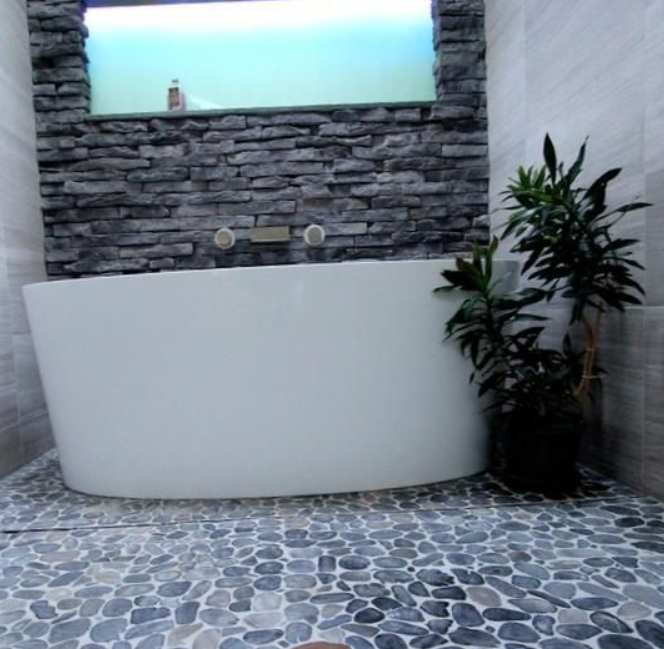 We spend more time in the bathroom than we think to relieve fatigue after a tiring day – to cleanse the mind and body. However, the purpose of the bathroom is clear to everyone, so it is often only used as a functional space. It's a space you care less about, but a space you need to care about is the bathroom. You can turn your bathroom into a luxurious therapeutic space without the need for a major renovation.
Make small changes to your bathroom so that it is considered a comfortable place to relax.


Pebbles bathroom
1. Cobblestone cladding (walk on pebbles)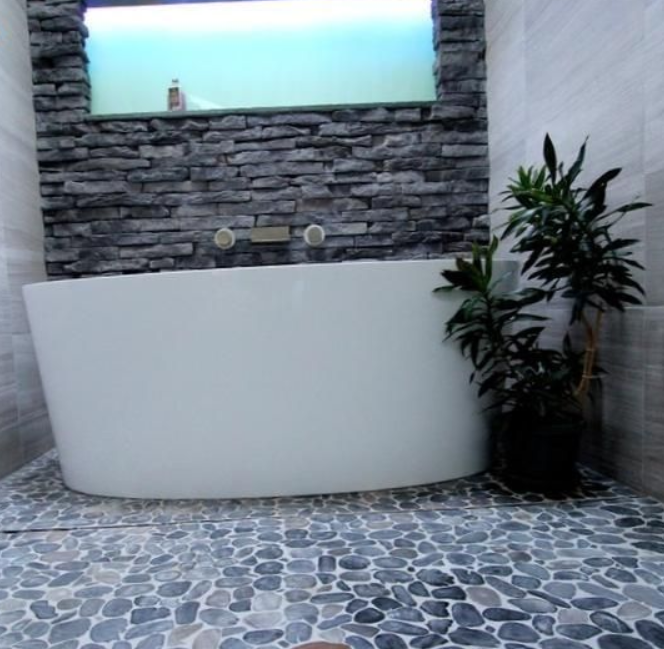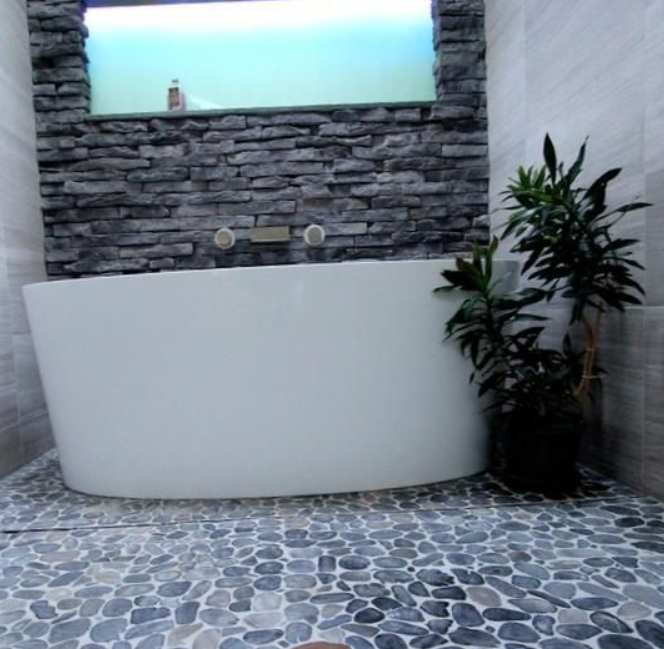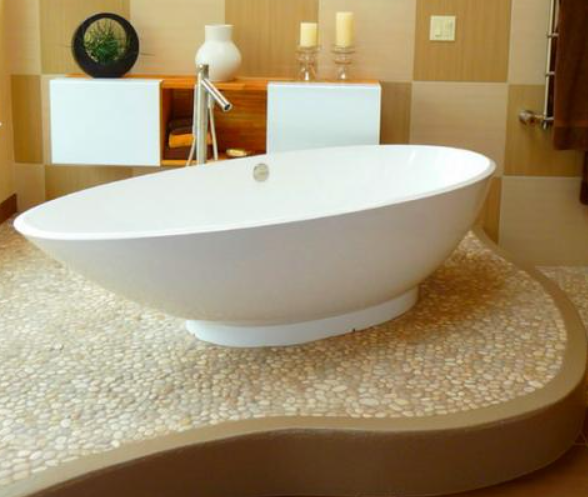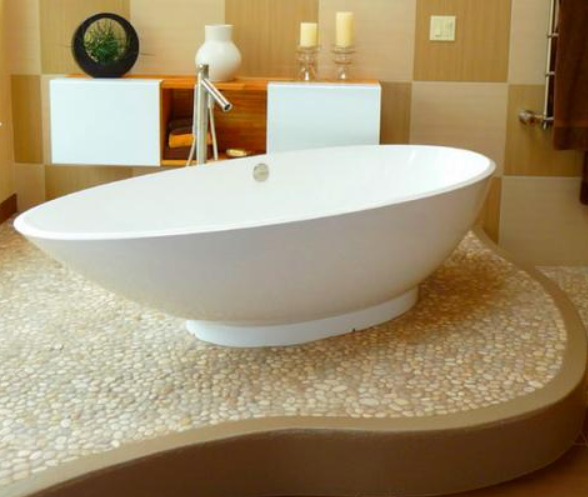 Place pebbles around the tub. Modern luxury bathrooms create an atmosphere with a cushion of pebbles around the tub. Create a stylish atmosphere in the bathroom with a pebble interior.
Bath Greens
2. Plant a small garden right in the bathroom.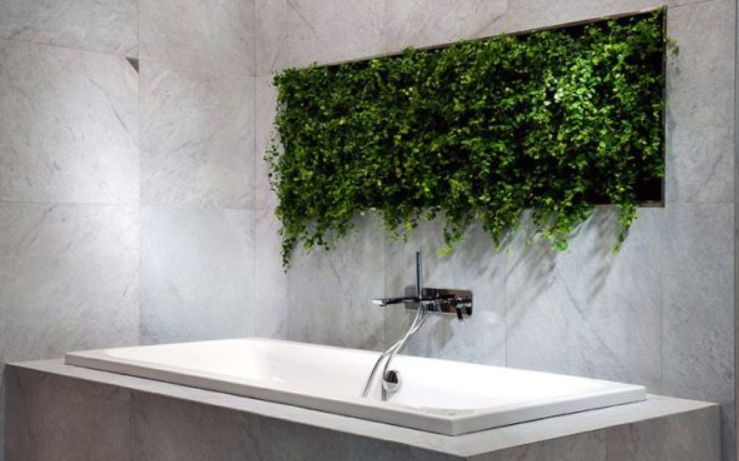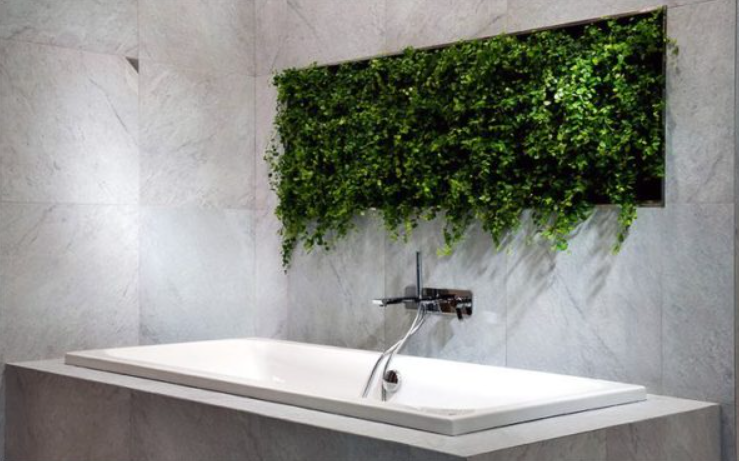 Recently, interest in plants has increased so much that there is a new term "Planterior", which combines plants and interior. It also purifies the air in the bathroom, so it is difficult to find such practical interior accessories. Plants that are good to grow in the bathroom include gwaneum, chunky foil and syngonium. Ivy and fumata are especially good for shade plants.
Glass partition for bathroom
3. A glass partition is better than a shower curtain.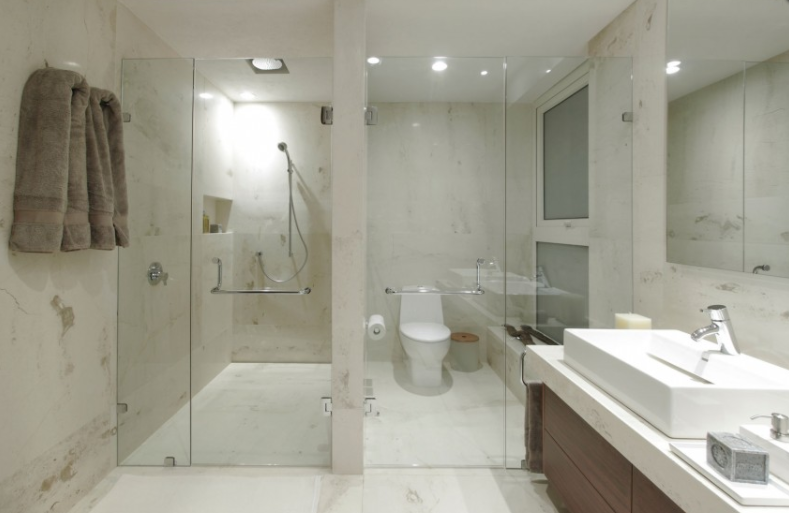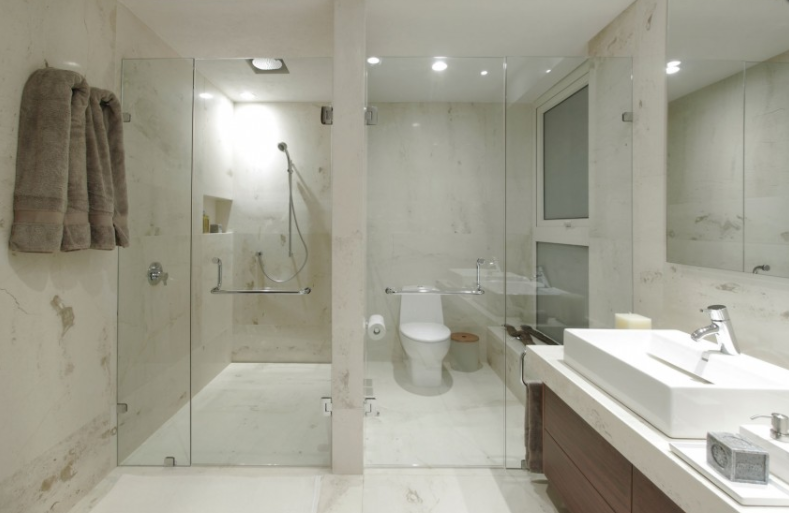 Shower curtains were once popular as a bathroom interior necessity, but more recently, glass partitions have been installed instead of shower curtains. If a shower curtain is installed in a small bathroom, it not only narrows the space, but it can also make the bathroom wet for a long time because of the water left behind by the shower. A glass partition is also convenient for cleaning the bathroom and makes the entire space much more spacious. Attractive designs are easy enough to create with your own hands and install in a large or compact room, having previously thought about the design and decoration of the space.
Original bathroom design
4. The original design of the mirror has an important influence on style.
One mirror can completely change the atmosphere of your bathroom. This is the easiest way to change the overall mood. If the bathroom is narrow, it is better to use a large and wide mirror, as well as a mirror with LED lighting. Change the atmosphere of your bathroom with mirrors of different shapes and sizes.

Picture frames for bathroom
5. Gallery style bathroom (hanging picture frames)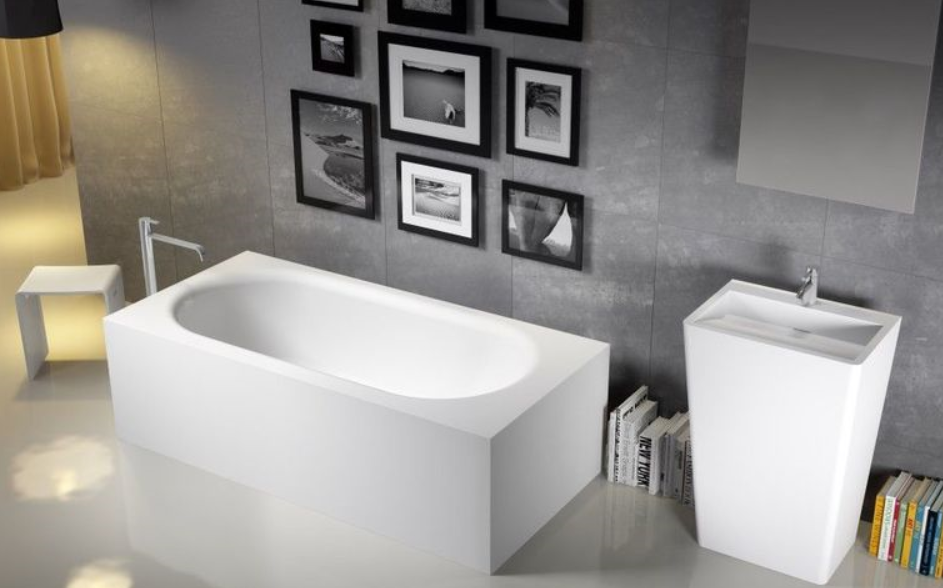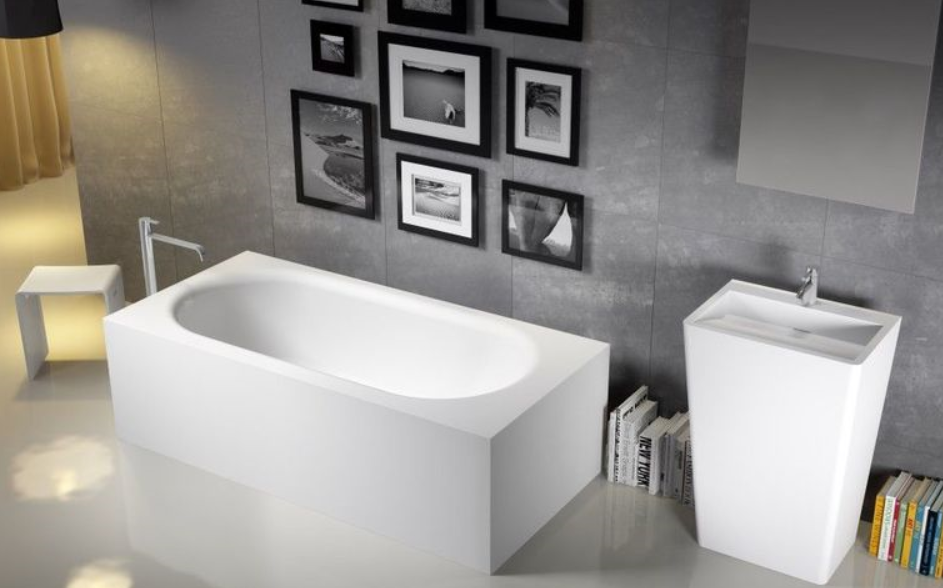 As you spend the beginning and end of the day in the bathroom, hanging your favorite paintings or pictures is the new way to decorate. Turn your bathroom into an art space with a variety of views. Beware of moisture, however. Instead of paper prints or limited edition posters, hang prints on canvas with special coatings that resist moisture. You can also hang a metal print in a frame without worrying about moisture. Frames with photos, posters, decorative candles in the bathroom no longer surprise anyone. They attract attention and decorate the room.
Ladder shelves for bathroom
6. The original shelf ladder.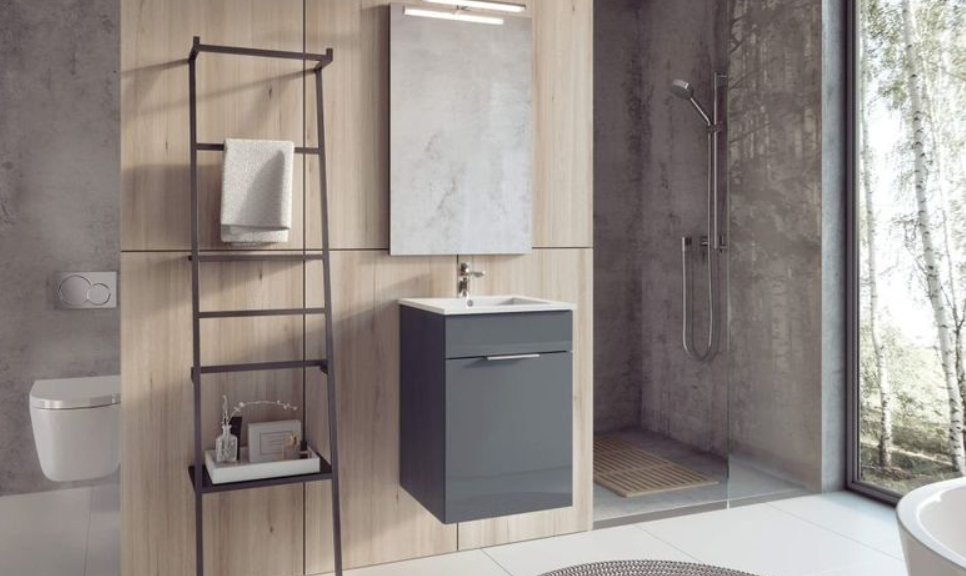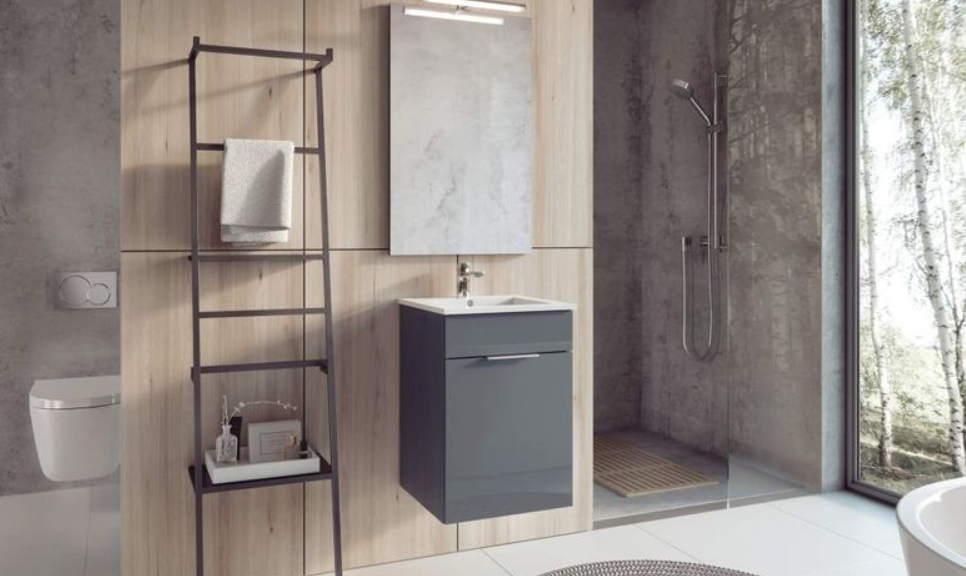 Ladder shelves are recommended for simple but unusual items. You can create a sensational bathroom interior, while providing additional storage space for things. This is a good item that adds warmth and sensitivity to the bathroom, while taking up less space on the floor. Ladders appear everywhere – in narrow hallways, in modern living rooms, and even in the kitchen and bathroom. This sleek accent opens up new possibilities and convinces you that everything can be used creatively.
Bathroom light fixtures / Bathroom lighting
7. Creating an emotional atmosphere with a pendant lights.
A single light fixture can noticeably transform the deserted atmosphere of a bathroom. How about installing a pendant or wall-mounted light fixture in the bathroom that was considered exclusively for the bedroom and kitchen? The atmosphere in the existing space will change dramatically with one lighting. While existing bathroom lighting was bright in terms of functionality, designer lighting, such as pendants, adds an emotional atmosphere to the bathroom.
Not only should the bathroom be clean, but it should also be bright – otherwise you can't even dream of cleanliness.