Kinds of synthetic mats
Nylon
Polyester
Carpet Triexta
Olefin
Synthetic (man-made) fibers make up the majority of the carpet and rug market. There are several reasons why synthetic fibers are preferred over natural fibers (such as wool):
More affordable cost;
Strength and durability;
Resistant to stain removal, easy to care for;
The most popular carpet materials are polyamide, nylon, polyester, and polypropylene. Each has its own pros and cons, so it's important to consider all the characteristics when choosing, considering whether they meet your needs.
Nylon
Nylon is one of the most well-known synthetic fibers. For many years it has been considered the "best" carpet fiber. Nylon is a strong fiber, usually elastic (the ability to bounce back after being flattened or compressed). It turns into a very durable carpet.
However, nylon also has disadvantages. They are more expensive than other synthetic carpet fibers and are less stain resistant (although they are always protected by a stain treatment).
Polyester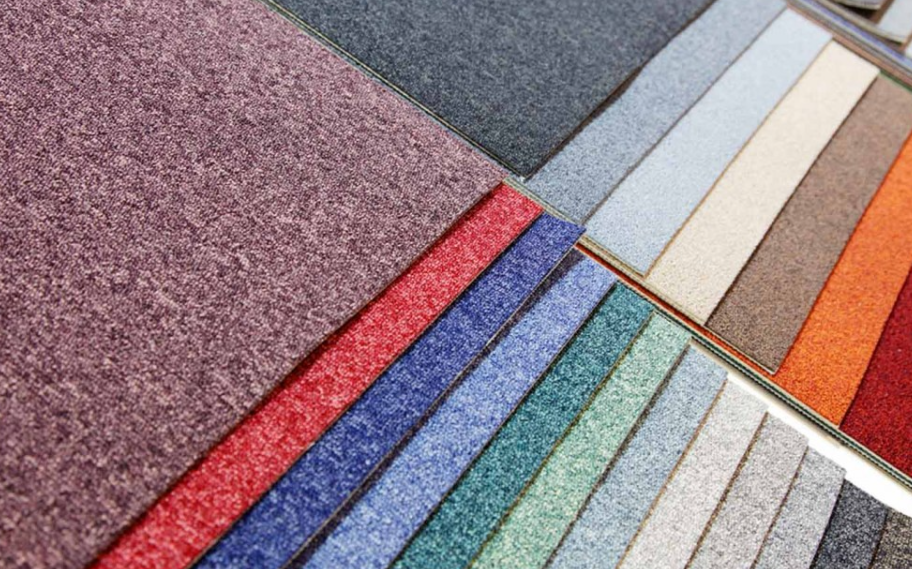 Polyester (polyethylene terephthalate, or PET) is a versatile fiber that has long been used in carpeting. From history – polyester was considered a lower quality carpet fiber compared to nylon because polyester was not as strong and resilient as nylon. However, many technological advances have been made in the production of polyester, and as a result, polyester is much more durable than in the past.
The biggest advantage of polyester is that it is stain resistant. This advantage is that modern polyester carpets are made from recycled materials, which is what makes them more environmentally friendly than nylon.
Carpet Triexta
Triexta carpet is made of synthetic fibers and has been on the market relatively recently, although it has been gaining popularity as a competitor to nylon carpet in the last few years. It is also very stain-resistant, which makes it a good choice for homes with pets or children.
There are several reasons why Triexta differs from polyester. First, Triexta is recognized as being more durable and resilient than regular polyester. In fact, many in the industry believe that this material is just as strong as nylon fiber, which has long been considered the king among synthetic carpet fibers.
In appearance, Triexta is more similar to nylon than polyester. Polyester has a higher sheen to the fibers, so the entire rug looks shinier than other types of fibers. Triplet, like nylon, has a more matte texture.
Although Triexta comes largely from the same "root" as polyester, there are several important differences between the two fibers. The main difference is that Triexta is more flexible than standard polyester. Triplet is much softer than polyester (although there are many new "soft" polyester rugs). Many Triplet carpets are made with a biotechnology that uses corn glucose in the manufacturing process, making these carpets environmentally friendly and resulting in lower air emissions.
Polypropylene (olefin)
Polypropylene rugs are the most common. They are reasonably priced and come in a wide range of colors and designs. These coverings are characterized by high durability, high moisture resistance, excellent resistance to stains (except meat stains), resistance to fading. Synthetic pile is very similar to wool, does not electrify, so it does not attract dust.
Olefins (polypropylene) are often found in looped (such as Berber) and local rugs, such as beshmet, because of their resemblance to the shape of a rattlesnake.
Olefins are considered less durable fibers than most other synthetic carpet fibers, so they are only used in entry-level products and in repetitive styles where elasticity is not crucial. Olefins dye well and are well suited for spaces prone to spills. In addition, they almost never discolor.
No one fiber is perfect.
Carpeting, like any other material for finishing rooms, has pros and cons. Therefore, before you buy such a covering, it is necessary to think about some aspects of the purchase of such material.
Type of room;
Passability;
Operation;
Climate;