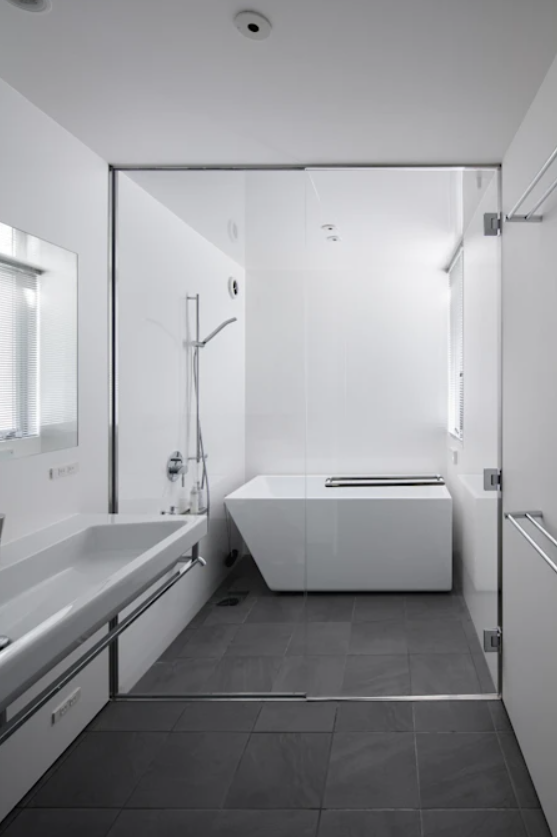 When planning a home, bathrooms tend to be smaller because we want to expand living space such as the living room and kitchen.
However, with a little ingenuity and ideas, you can make a small bathroom that will entertain you while taking a bath. So, this time I would like to present an impressive bathroom with such ingenuity.
Spacious Bathroom
1. A spacious bathroom that looks like a single space, including a washroom.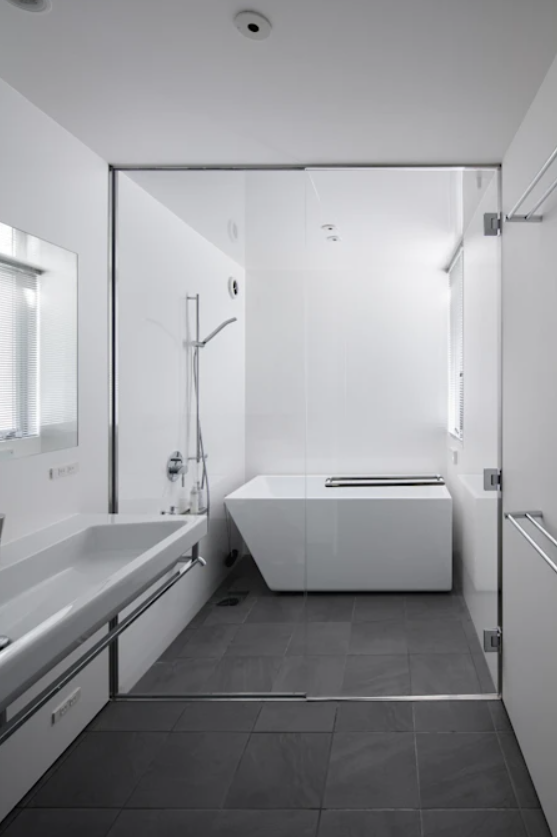 First of all, I would like to introduce you to this bright and clean bathroom, beautifully decorated in white. What makes this bathroom special is that the wall separating the bathroom from the toilet is glass. This makes this spacious bathroom that resembles a bathroom, including the washbasin space. The wall and floor finishes are unified, there are no steps, and the design is beautiful as one room.
Fancy bath
2. Fancy bath on legs.
The bathroom of this pop-up American home features a tub on stylish legs. Not only does this tub on legs look trendy, but it also makes the room seem spacious because you can see furniture, such as a sofa, on the floor. Here, the tub is positioned just like a washbasin, and the tub combines the bathroom and bathtub like a large sink.
Ceramic bathtub
3. A ceramic bathtub that warms the soul and body.
The bathroom of this house has a ceramic bathtub. It is said that because of the characteristics of the ceramic, it would be difficult to cool the water if the tub were heated by filling it with hot water under far infrared rays. Hot water in such an elegant bathtub will not only warm your body, but also warm your heart along with your soul.
Universal Bathroom
4. Universal Bathroom for games.
In this house, to make efficient use of the limited floor space, the bathroom is divided by two sliding doors or, conversely, the sliding doors can open and be used as additional living room space. This not only allows for extensive use of the bathroom, but also makes the living room and dining room wider and more open if the sliding doors are left open.
Compact bathroom
5. Compact and easy to use bathroom.
In this home, the tub and shower, sink and toilet are all in the same space, making the bathroom compact and easy to use. You can get to the shower area just by crossing a small step, so it's a safe bathroom that's easy for seniors to get in and out of.
Open bathroom
6. Open glass bathroom.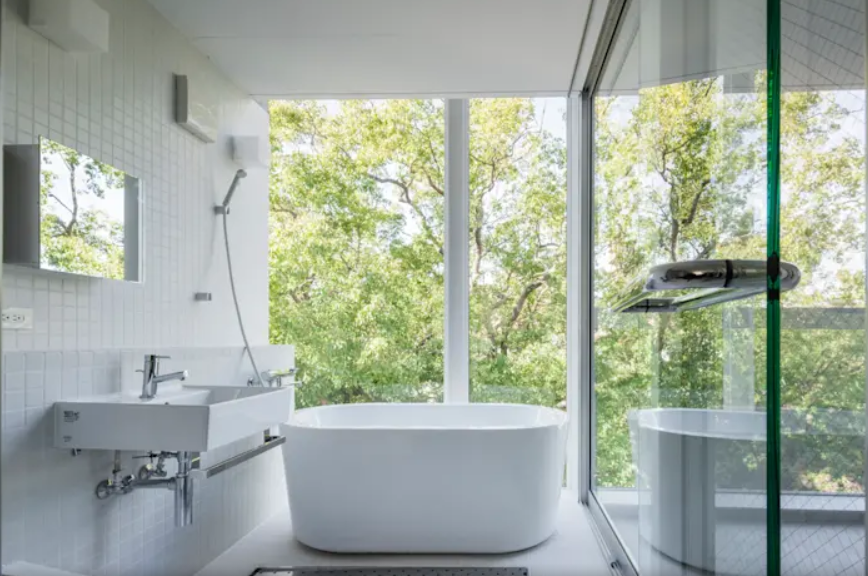 Naturally, it seems to me that a bathroom is basically surrounded on all sides by walls to keep the line of sight out. However, if you are in an environment where your eyes do not go outside the environment, why not consider a glass bathroom like this one? If you don't mind such a glass-enclosed home, you can enjoy an outdoor bathroom as if you were taking a bath outside, even in a confined space.
Bathroom with windows
7. Bath with the windows open.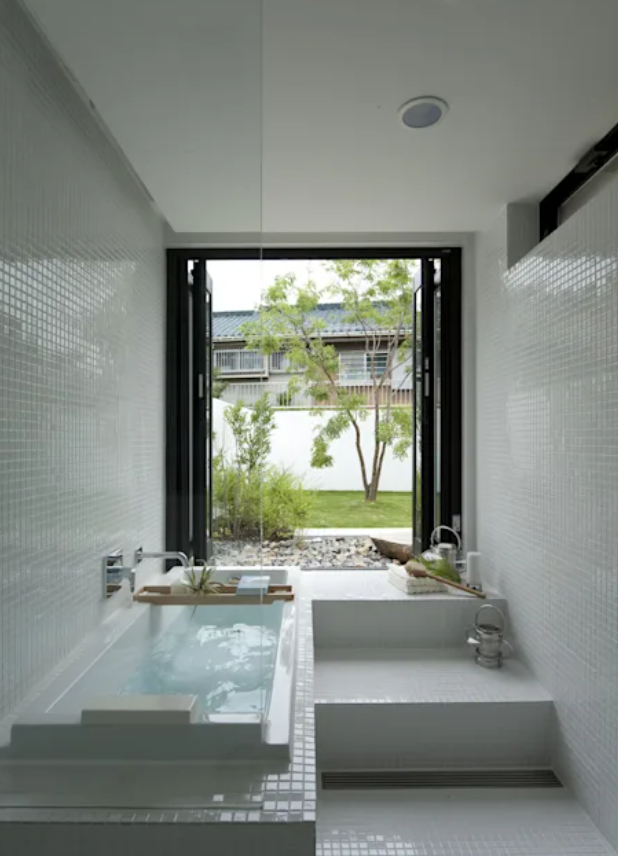 The bathroom of this house has a large window that opens completely through a folding door. Looking at the scenery of the garden full of greenery, you feel a pleasant breeze outside, and you feel like you are in a bathtub under the open sky. Isn't it the bathroom that makes you feel refreshed, as if you were immersed in a bath in some special place while you're home?
Bathroom light pours in from above
8. Bathroom, where the light shines from above.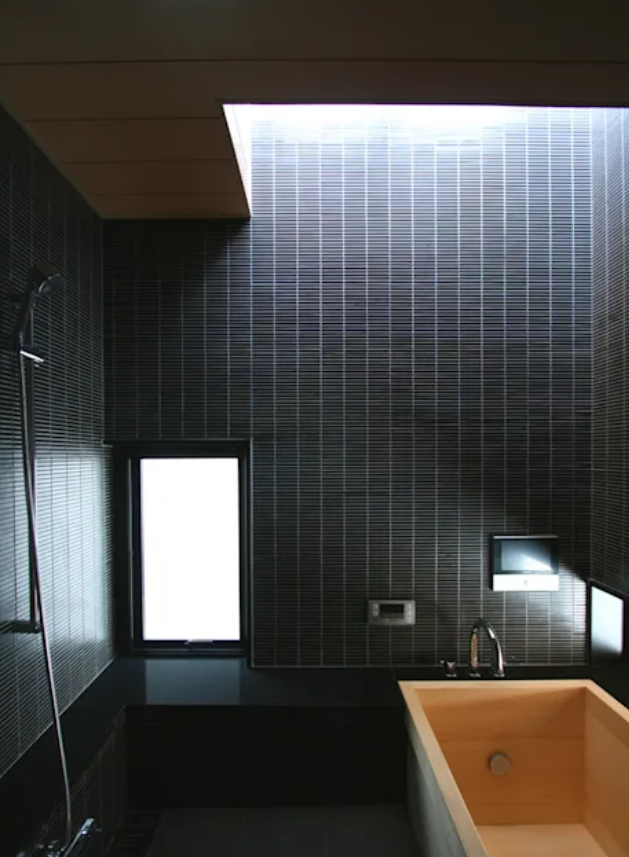 I think there are houses that can be extended upward, even if they can't be extended horizontally. In that case, why not try increasing the ceiling height by installing a high sidelight, such as this house, to create an open feeling in the bathroom. Here, a poppy bath and black tile finish will create a more soothing and therapeutic time.
Bathroom stone
9. We glue the stone as a finishing material to disguise the space.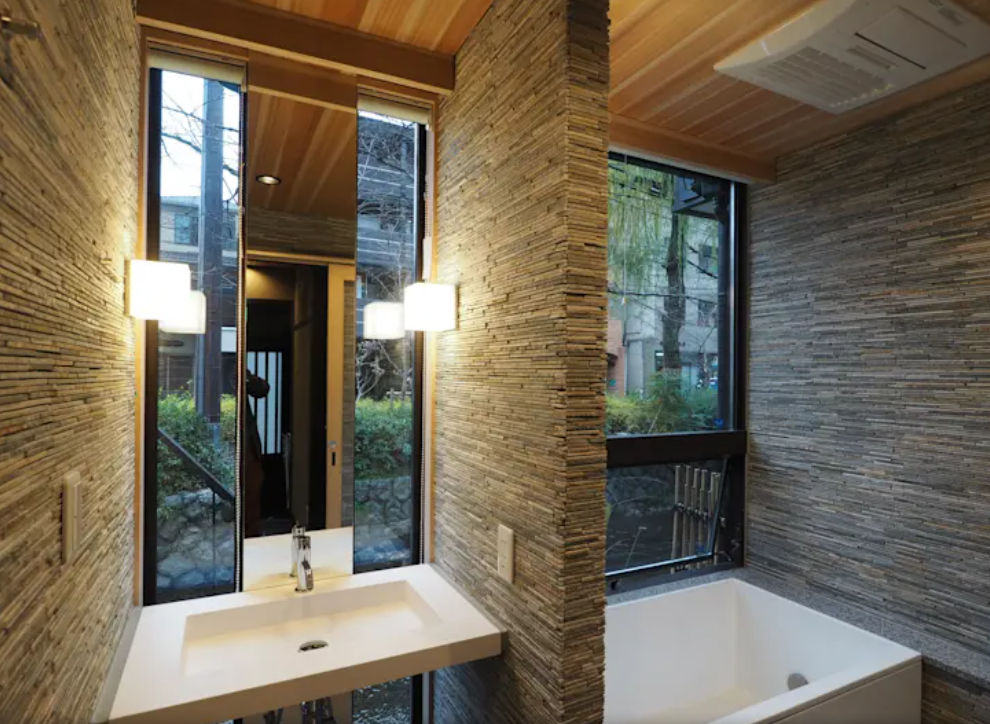 Since this is a small space, you can try to create a healing atmosphere in the bathroom by sticking to the wall and floor finishes. Here, stone is used with clear horizontal lines on the walls, natural wood is incorporated into the ceiling, and windows are wide open outside to create a peaceful bathroom where you can feel nature.
The bathroom as a living space
10. The bathroom is also designed as a living space.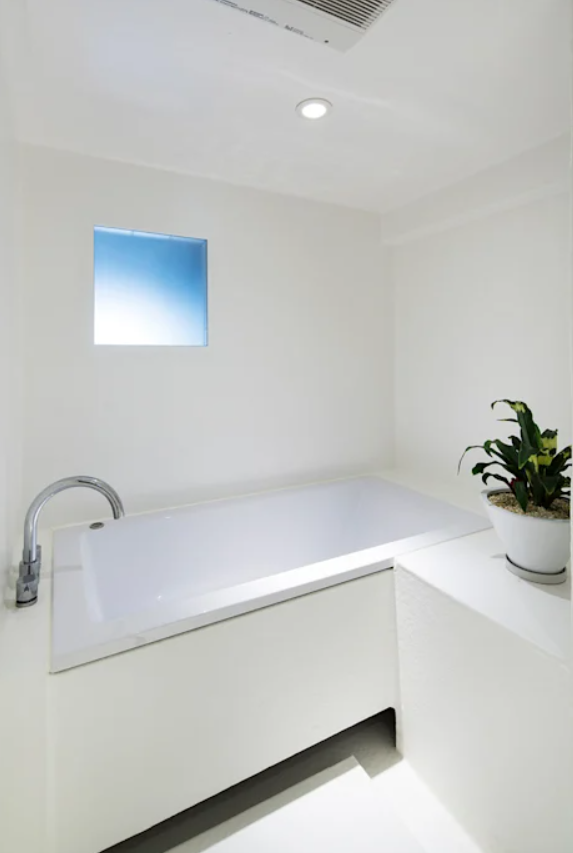 It seems that many people don't put any decorations in the bathroom, probably because of the humidity. However, since it is a place to wash away the day's fatigue, please decorate it as a living space and make it relaxing and tranquil. The bathroom in this house is a simple space neatly organized in white colors, but the bathroom is more comfortable just because there are green foliage plants growing here.
Why not work with an architect to create a bathroom full of similar ideas?
What kind of beautiful bathroom do you want to create?