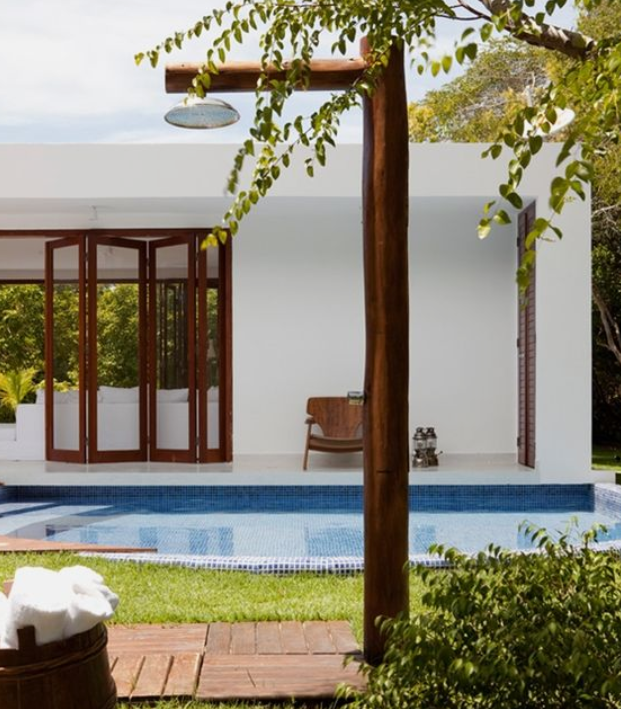 Ideas for showers
Whether you spend a few minutes in the shower to wash off your morning nap and perk up, or a long time enjoying the relaxing jets after a busy day, the shower has an important place in your home. How properly it is organized and equipped largely determines its practicality, comfort in use and care. After all, a beautiful and modern shower room is always a delight to the eye.
An outdoor summer shower will be a real boon in the summertime. It can be placed both in the house and in the yard. Both the first and the second option will be desirable and relevant in the summer heat.
Outdoor showers have many benefits, especially for those who spend a lot of time outdoors. If you come inside after a day of mud and sweat, boating, paddle boarding at the beach, or hiking, just shower outside, cleansing your body of sand, stains, and dirt before you go inside.
Classic shower
1. Classic white wood outdoor shower
Outside doesn't mean all the neighbors and their neighbors can see it. This outdoor shower enclosure, made from classic white wood by Robyn Hogan Home Design, provides all the privacy you need when you shower under a bright blue sky. Outdoor units aren't very space-constrained, so you can use larger, more sturdy equipment.
This idea shows how you can use a small corner in the exterior of the house to install a shower head. You don't have to install new plumbing, just extend it from the inside of the house.
Outdoor shower
2. Outdoor Hiking Shower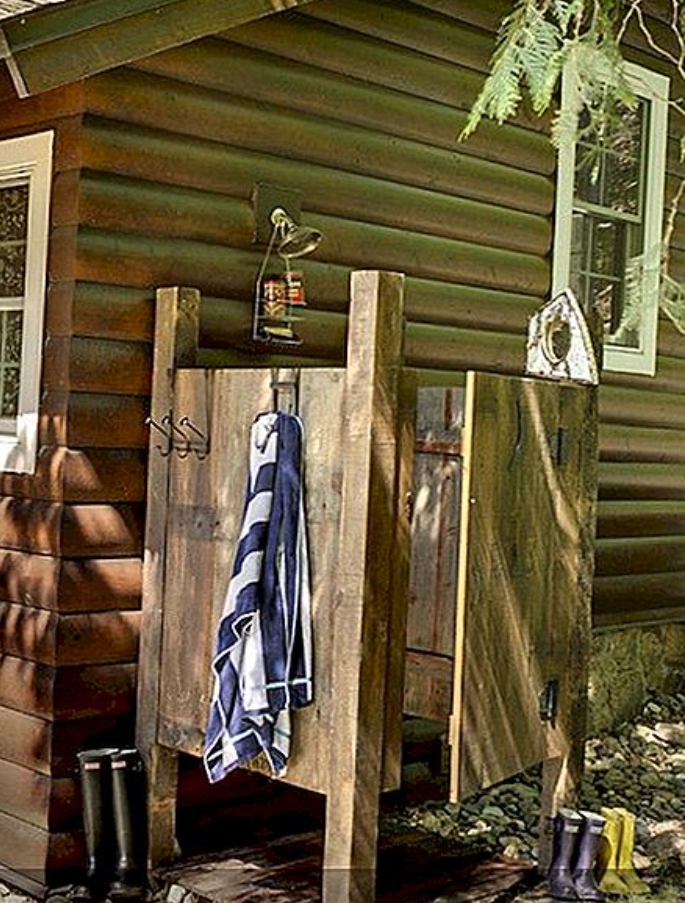 The cabins are definitely more comfortable than the campgrounds, but you can add an outdoor hiking shower to give them a hiking look. This fun rustic outdoor shower has wooden scrubs, towel hooks and showerheads. It can also easily be used as an extra shower if extra guests arrive for the weekend.
Glamorous shower
3. Glamorous outdoor shower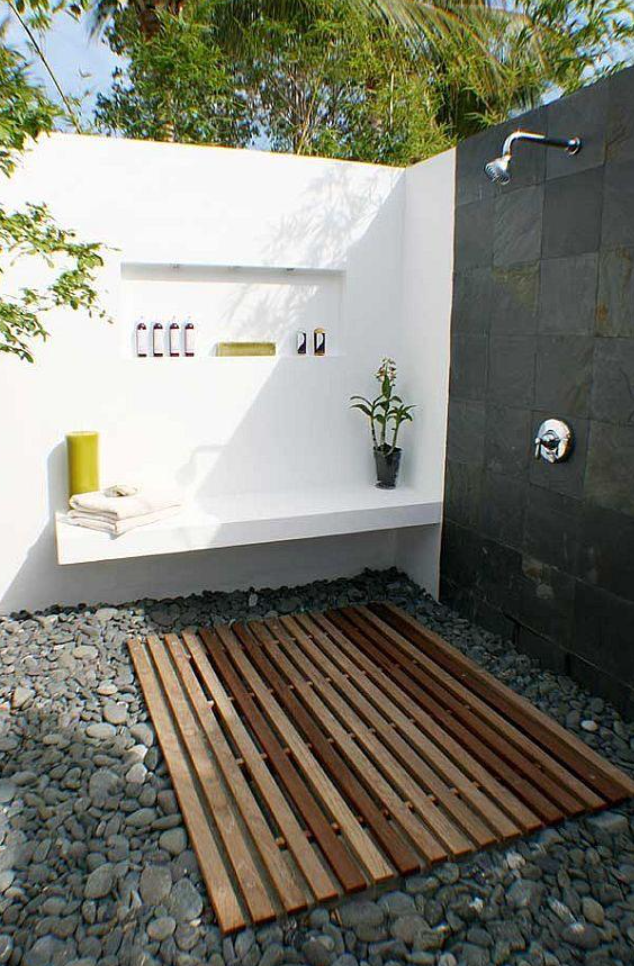 Worried that your glamorous tastes are incompatible with the durability of your outdoor shower? Think again. The beautiful outdoor shower combines bright white exterior walls with green trees and a dark wall for privacy. With state-of-the-art jets and thermostats, it's just as comfortable as it is indoors.
Shower with stall
4. Shower with a changing booth
Sometimes for outdoor showers, too many people can't move around comfortably. In this case, for everyone's convenience, install an additional changing rack, as in the case of the outdoor shower made of natural wood. This way, you and your guests can change from bathing suits to evening gowns without having to go back.
Shower with foliage
5. A leafy summer outdoor shower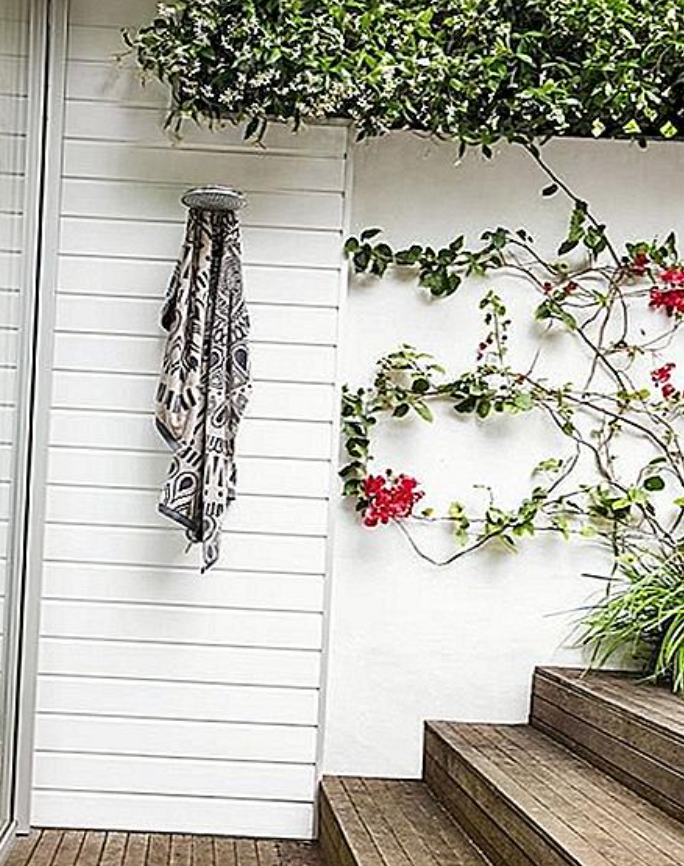 The beauty of outdoor showers is that you effortlessly decorate them with natural scenery. In a gorgeous outdoor shower, curly vines climb the blue walls. Sliding glass doors connect this outdoor space to an enclosed tub, protecting your privacy both inside and out.
Eco Shower
6. Eco-friendly summer outdoor showers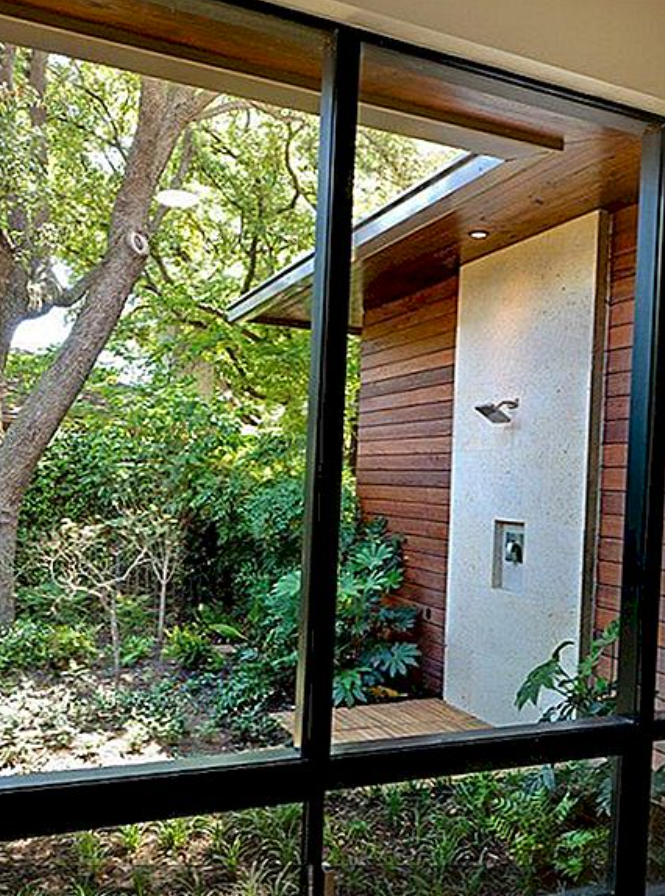 The square, rectangular shape takes center stage in mid-century outdoor showers.
Eco-friendly homeowners should note:
Using an outdoor shower can effectively reuse your yard's wastewater without having to add a new drainage system that separates gray and black water in your home.
Traditional shower
7. Traditional outdoor shower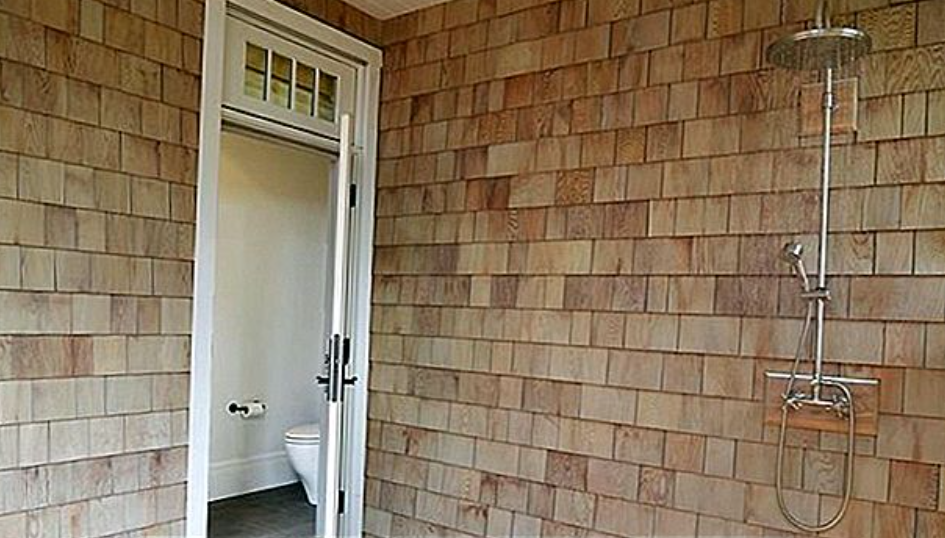 Expand your small laundry room with a large outdoor shower like a traditional outdoor shower. Ruined walls harmonize with each other, and teak decking effectively drains water to the floor. Maintain privacy with a connection to the bathroom.
Summer shower
8. Summer shower on the lake shore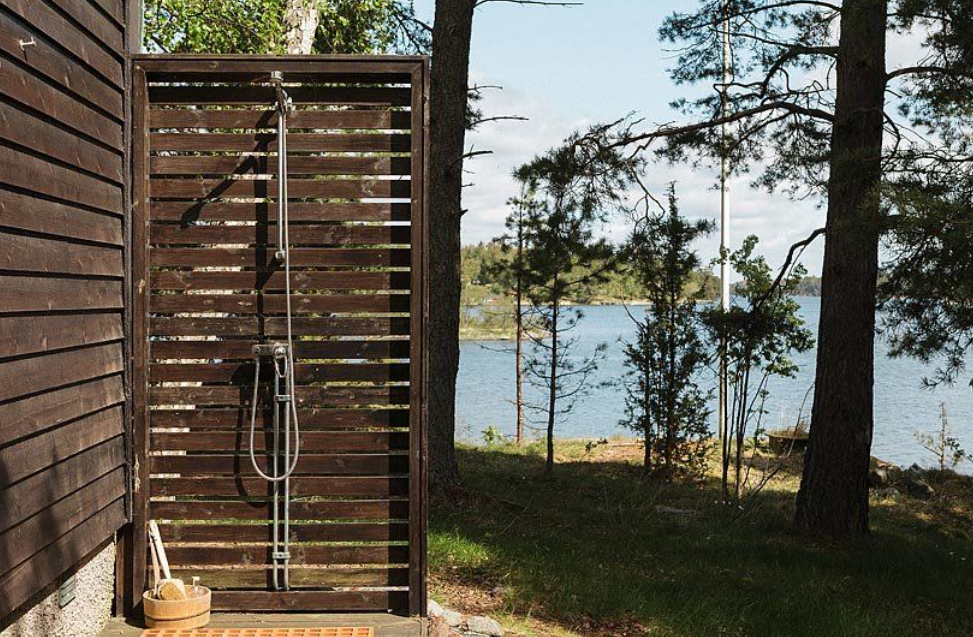 This cute little cabana is an easy addition to any home. Use the same or similar siding on the outside of the house and run pipes to your desired shower area. This particular counter allows for clothes and towel hooks for practicality, but otherwise makes good use of space and architectural features.
Bathroom with shower and tub
9. Outdoor bathroom with shower and tub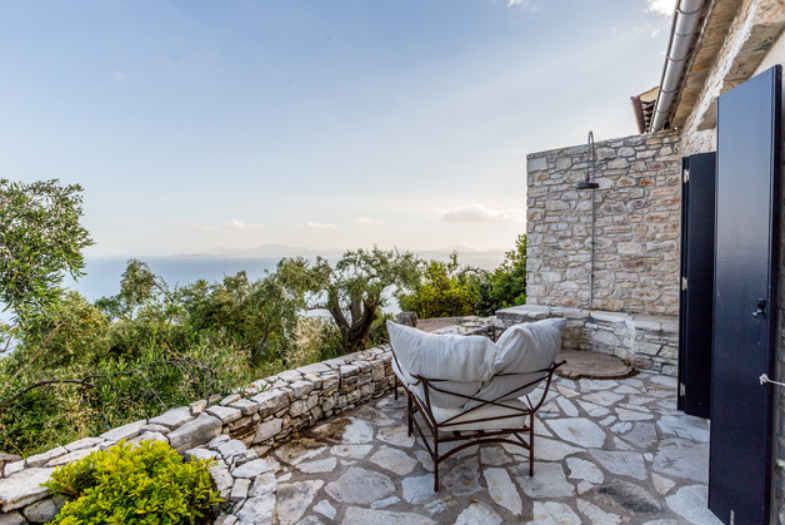 Here's an example of an outdoor shower with an interesting floor. The shower design uses the same color as the outside of the house, but the floor is cobblestone to highlight the shower space. This provides a natural connection to the outside landscape. An opening door allows for quick access to the house after the shower.
Modern shower
10. Modern outdoor showers lined with tile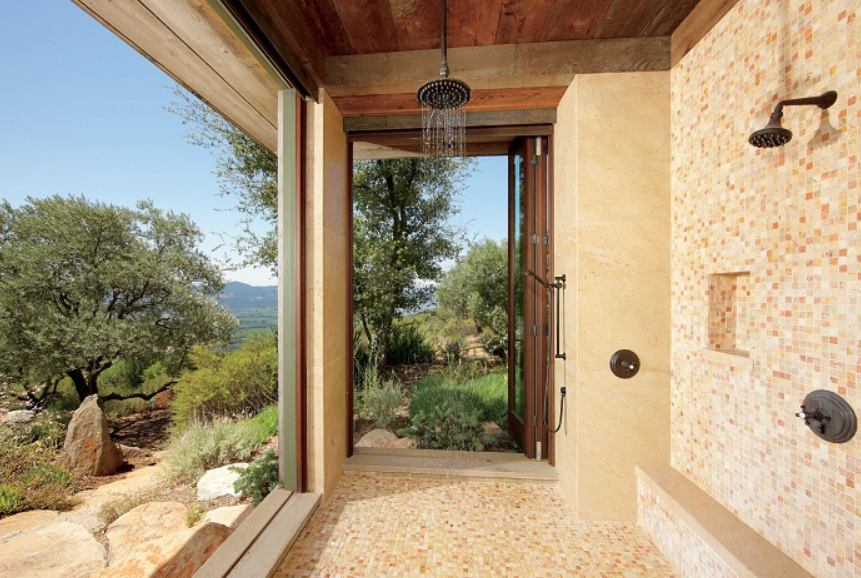 So far, we've seen many showers melting into the backdrop. Usually they used the same colors and patterns as the exterior of the house. But this project works differently. A separate set of tiles is used to separate the shower area. This adds visual interest and actually designates the shower as an architectural element rather than a hidden addition.
Vintage shower
11. Vintage outdoor shower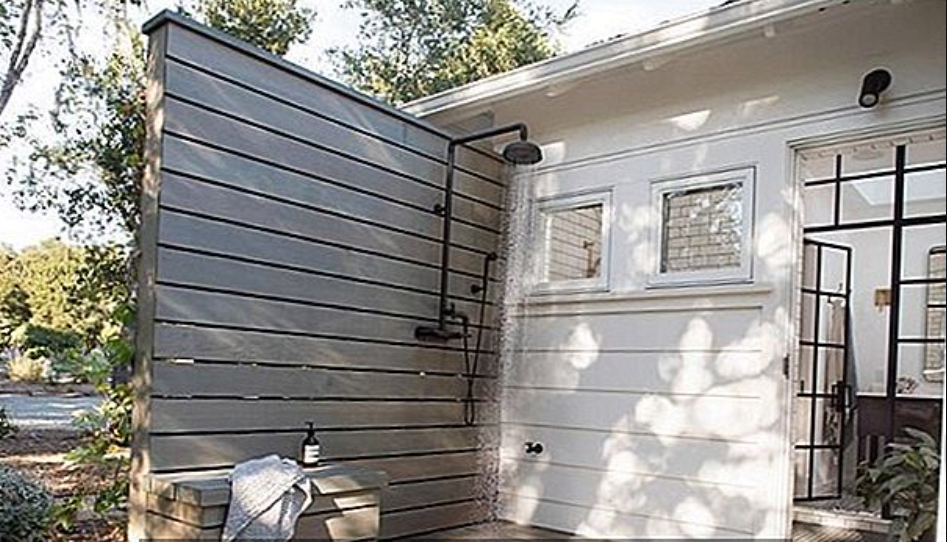 The vintage look of the bathroom is not limited to the indoor space. A vintage tropical shower sets up this large outdoor shower. The matte black hardware contrasts with the light gray flooring and teak wood siding, yet maintains its integrity. It's a harmonious choice. Keep towels and clothes dry on the bench outside the shower.
Mediterranean Shower
12. Mediterranean Summer Shower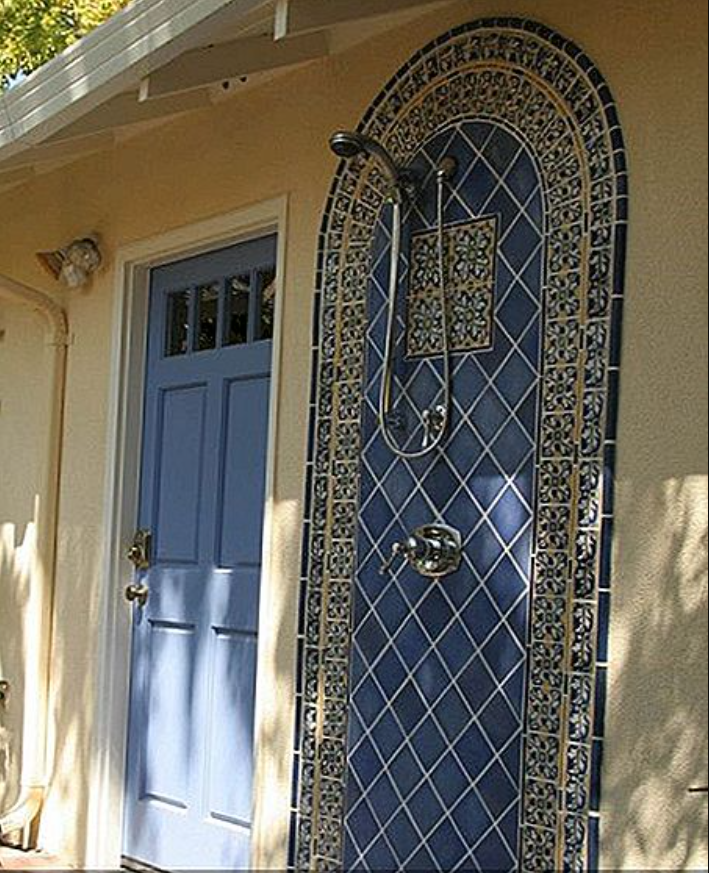 It is the outdoor shower that sets this home apart from others. The tiles serve as decorative decorations at the front of the house and use traditional Mediterranean colors such as yellow and blue. Wouldn't you want to take an outdoor shower every day if you're stuck at home?
There are many options for how to furnish a bathroom or shower room, so it's worth checking out 12 beautiful rustic pallet crafts for the bathroom.