Drywall – stone and paper
What is drywall? What about the jointing compound used to create joints between drywall boards?
The popularity of gypsum plasterboard nowadays surprises no one. What surprises, rather, is consumer skepticism – on the wave of interest in the ecology of the home there are unflattering comments about the properties of the material. Drywall is scolded then for dryness, then for moisture, for unknown additives, for the fire resistance, obtained through the allegedly harmful admixtures. At the same time, cardboard panels with a gypsum core are considered the safest among modern finishing materials.
Gypsum plasterboard in our time has become one of the most popular building and finishing materials. It is widely used in the formation of various structural elements of buildings of different purposes. Modern construction industry produces it in several variants, which makes it possible to increase the reliability and attractiveness of buildings, makes it possible to choose the material according to technical characteristics and appearance.
Additives in drywall
After years of technical magic and product development, our walls are still made of two simple materials: stone and paper.
There are many additives in drywall, but most companies make products from:
Gypsum: 70-90% of drywall. Gypsum has long been the basis of drywall products. Also known as calcium sulfate, gypsum is cheap to mine, fire-resistant and has excellent noise-absorbing properties. Fiberglass is added to Class X fire-resistant gypsum boards. Unlike asbestos, asbestos dust does not pose a serious poisoning hazard.
Cellulose: up to 10% in gypsum board. Cellulose is the paper lining of drywall on both sides. Increasingly, however, drywall is not lined with paper, but with abrasion-resistant fiberglass mats. Examples include USG Sheetrock Mold Tough and GP DensArmor Plus. In fact, if you use an alternative tape such as FibaTape, you are using the same type of material as the drywall in the mold.
After these two basic materials, all others are traces:
crystalline silica
vermiculite
potassium sulfate
starch
mica
wax
boric acid
Joint caulking compound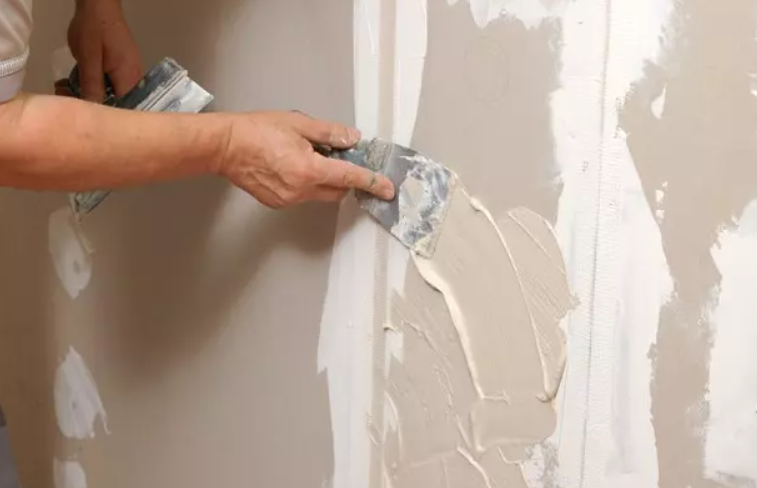 It is often referred to as gypsum because the jointing compound or jointing mortar between drywall sheets looks like gypsum, but it is not.
Calcium carbonate : Limestone slurry, also known as crushed limestone, is a major mineral.
Talc : Is drywall dust a loophole in your renovation? Are you constantly removing barriers to keep house dust out of other parts of your home? Talc is the culprit. This ultra-fine mineral is used in cavities like baby powder because the regular particles are flat and resistant to cracking.
Talc is the element that makes the sand from the dirt as smooth as glass. Approximately 5 to 15% of the joint compound consists of talc.
Sulfur and strontium are not welcome
Sulfuric acid has been found in Chinese drywall, but not in American drywall. Strontium has been found in Chinese drywall in much higher concentrations than in American drywall.
Acetaldehyde and formaldehyde were detected in Chinese and American drywall. But for American drywall, these materials were at the limit of acceptable values (not Chinese drywall).
American brand drywall is transparent
Gypsum wallboards made by the USG Corporation are the best known drywall. If you have a wallboard from USG, you can be sure there's no problem with it. USG reports that in 90 years of manufacturing, its products have not experienced the same problems as Chinese drywall.
If that doesn't reassure you, USG Sheetrock brand wall panels are made in North America, USG has never made wall panels in China and has never changed the labeling or rebranded wall panels made in China.
In a joint study by the U.S. Consumer Product Safety Commission and four U.S. federal government agencies, U.S.-manufactured drywall had no similar problems with Chinese-made drywall.
High-quality drywall is environmentally friendly – the old Europe, a lover of ornate interiors, was sure of this.