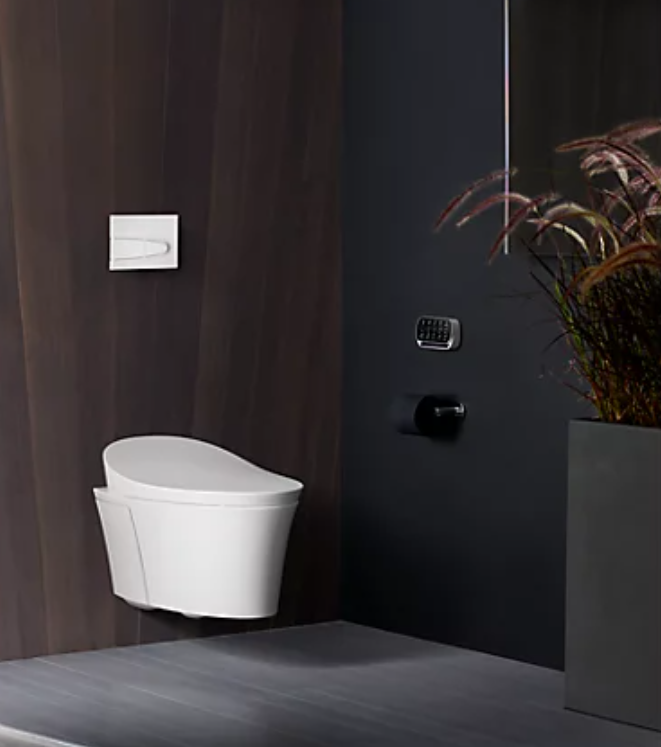 Toto Neorest vs Kohler-Veil
The big question here is, which Toto-Neorest model is most comparable to the Kohler-Veil model?
To answer this question, you should check the characteristics and specifications of the two models. Their respective user reviews should also be taken into consideration.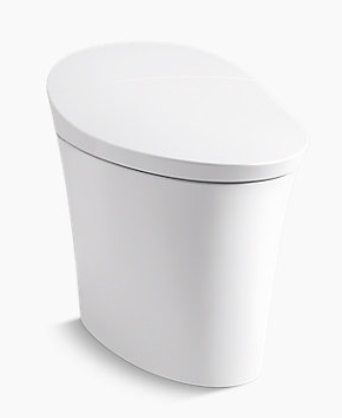 Toto currently has eight Neorest models on the U.S. market. Six of them are mounted on the floor.
Neorest model
| | | | | | |
| --- | --- | --- | --- | --- | --- |
| TOTO NEOREST AH | TOTO NEOREST NX1 | TOTO NEOREST NX2 | TOTO NEOREST RH | TOTO NEOREST 700H | TOTO NEOREST 750H |
| floor-standing toilet | floor-standing toilet | floor-standing toilet | floor-standing toilet | floor-standing toilet | floor-standing toilet |
| 1.0 GPF & 0.8 GPF | 1.0 GPF & 0.8 GPF | 1.0 GPF & 0.8 GPF | 1.0 GPF & 0.8 GPF | 1.0 GPF & 0.8 GPF | 1.0 GPF & 0.8 GPF |
| Universal Height | Universal Height | Universal Height | Universal Height | Universal Height | Universal Height |
| 12″ Rough-in | 12″ Rough-in | 12″ Rough-in | 12″ Rough-in | 12″ Rough-in | 12″ Rough-in |
| CEFIONTECT Ceramic Glaze | CEFIONTECT Ceramic Glaze | CEFIONTECT Ceramic Glaze | CEFIONTECT Ceramic Glaze | CEFIONTECT Ceramic Glaze | CEFIONTECT Ceramic Glaze |
floor-standing toilet – TOTO Neorest
TOTO NEOREST AC vs TOTO NEOREST EW
| | |
| --- | --- |
| TOTO NEOREST AC | TOTO NEOREST EW |
| WALL-HUNG toilet | WALL-HUNG toilet |
| 0.9 GPF & 1.28 GPF | 0.9 GPF & 1.28 GPF |
| Universal Height | Universal Height |
| 12″ Rough-in | 12″ Rough-in |
| CEFIONTECT Ceramic Glaze | CEFIONTECT Ceramic Glaze |
WALL-HUNG toilet – TOTO Neorest
There are two versions of the Kohler Veil: wall-mounted and floor-mounted. The other two Kohler smart toilets are K-5402-0 and K-5401-PA-0.
Kohler K-5402-0, Kohler K-5401-PA-0
But now let's focus on the Kohler veil smart toilet.
| | |
| --- | --- |
| Kohler K-5401-PA-0 Veil | KOHLER 5402-0 Veil |
| Elongated Dual-Flush Intelligent toilet | Intelligent Wall-Hung Toile |
| Dual flush offers a choice of 0.8 or 1.6 gpf | Dual flush offers a choice of 0.8 or 1.6 gpf |
| Universal Height | Universal Height |
| Automatic deodorization system | Automatic deodorization system |
| Automatically flushes toilet after use | Automatically flushes toilet after use |
Kohler Veil
As for which toilet is better, let's make that argument in this comparative review. It is too subjective for an objective discussion. But if you must state your position, you can leave a comment below.
Unless toilet characteristics are compared, comparative reviews are useless. A meaningful review is to understand how each feature works to give you value and benefits.
But you won't read all the features of these two toilets. As for the toto neorest, you can easily see more than 20 features in the 4 models. So let's not make this review look like an instruction manual for two toilets.
Each question drives people crazy because some differences may be too trivial for your attention. Thus, only the features that affect the performance and usability of the toilet are discussed.
You might think it's the perfect choice for your small bathroom with limited space, fit for a regular sized toilet. But don't worry, don't press the "Buy" button now, or you'll swear like a sailor.
Although the total length of a toilet bowl with a Veil is only 26-1/8, you'll need an extra 2-1/4 inches of clearance from the wall. So, when fully installed, it actually takes up more than 28 inches (front and back).
This clearance is due to the location of the bowl outlet closer to the back of the bowl. Thus, the entire front wall space becomes 28-3 / 8 inches when mounted on a 12-inch billet.
So, is it a design flaw that caused the 2-1 / 4 inch gap?
No, it is not a design flaw. If you refer to the owner's manual, it says, "If the approximate clearance is less than 12 inches (305 mm), the seat may hit the wall when opened.
Therefore, if the roughness is at least 12 inches, you should make sure there is enough clearance between the toilet bowl and the wall.
On the other hand, the shortest model Toto Neorest 550H is 27-5 / 16 inches long. A 2-inch clearance is not required. The other model that is less than 28 inches long is the Neorest 500, which is 27-5 / 8 inches long.
Toto Neorest 550H, Neorest 500H
The Neorest 700h and 750h are standard size toilets and are 31-7 / 16 inches long.
Both the Toto Neorest and Kohler Veil are dual flush toilets. The Kohler Veil K-5401-0 flush volume is 1.28 gallons per foot and 0.8 gallons per foot (full and light wash).
What's more, if you choose to use the "new interest" to clean your solid waste, you can save 28% on water consumption. The dual flush capacity is 1.0 and 0.8 gallons per foot; this makes the Neorest a super-efficient toilet.
However, if you choose Kohler Veil, you are still doing your duty to protect the environment, so don't feel bad about it. It meets the requirements of the EPA's water management plan. So feel free to say that it's a water-saving toilet. That way, the Toto Neorest toilet can save you more water.
Sure, a 2-1/8 inch Toto is another day of flushing without clogging the tub. But honestly, the bottom line is how effectively the toilet flushes garbage in a certain volume. So the next best choice is to look at the map levels of these two toilets.

But first, let's break it down. As we all know, the larger the diameter of a trapeze, the more mass of matter it can move. In terms of common sense, it is more likely that a narrow trough will be blocked than a large trough. Hence, between 1-15 / 16 inches (Kohler's veil) and 2-1 / 8 inches (Toto Neorest) the difference can be ignored as 3/16 inch. How would this affect the card rating?
Smart built-in toilet Kohler veil, more precisely, the model Kohler K-5401 is not rated on the map.
Model Kohler K-5401
Toto's Neorest smart toilet card level is 800. Even for the cheapest model of the innovative line, the score of the 500h card is 600.
Don't believe it? Download the full list of toilets on the map (as of August 25, 2017) and view it for yourself.
Screenshot of the map home page map toilets test.
It's not a particularly important feature, but it's useful to know whether it means an advantage or a disadvantage if you want to spend four thousand dollars on a toilet bowl.
Of course, a larger water surface area means it's a better odor filter and a better reduction in bowl divorces.
The Kohler K-5401's water surface area is a reasonable 7-15 / 16 inches x 5-5 / 8 inches compared to Toto's 8-3 / 4 x 7-1 / 14 inches.
But don't worry too much. No matter which side you choose, there is an automatic deodorizing feature. So, if you're worried about odor, size doesn't matter.
What to do if there are streaks on the bowl?
Yes, it could be a small water problem. A larger water surface is always desirable, it helps reduce streaks. Combined with a good glass surface, such as Toto's CefionTect, it will only make the rinse cleaner and reduce slip marks more effectively.
Watch a video on how Toto's CefionTect glaze reduces stains and slip marks.
In this respect, Kohler seems to have an advantage over Toto. But look closely, Kohler's UV system looks more like a science experiment for fifth graders. No wonder its price is only $4,000, while the price of a top-of-the-line Toto Neorest 750 watch is as high as $10,000.
Well, in case you're not familiar with the TOTO Neorest series of smart toilets – the only Neorest floor model with a UV disinfection system is the Toto MS993CUMFX#01 NEOREST 750H. Actilight, the name of the total UV system, is used in the total disinfection process, but its use is different and more complex. It basically concentrates on the dirtiest part of the toilet bowl, which is the inside of the toilet bowl.
Apparently not. Neolest750h is a different beast, a different level above the veil.
Toto NEOREST 750H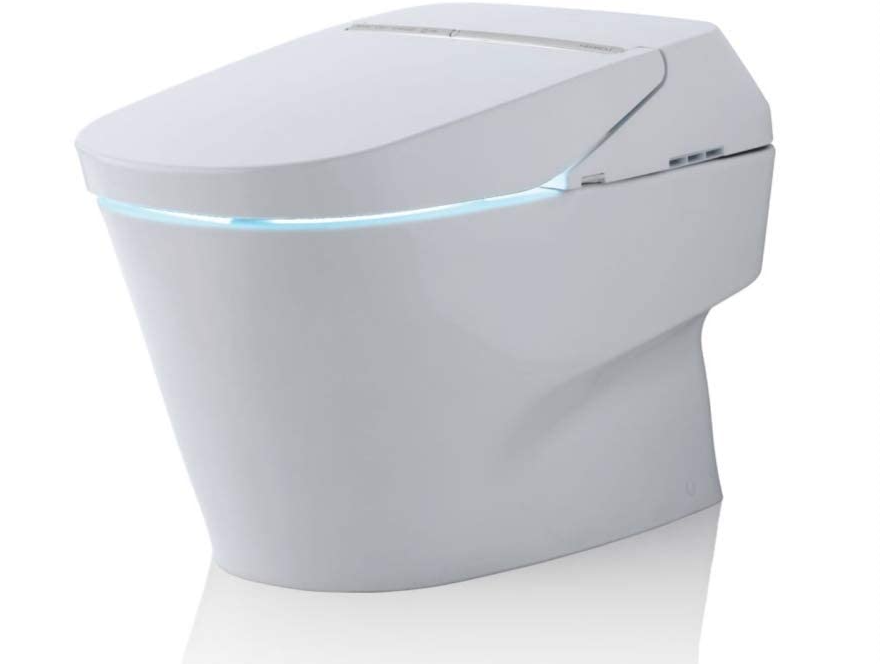 Well, before we move on to a comprehensive 750h review of the Neorest, let's take a look at how the UV feature is deployed in the two toilets. (You can read more about the Neorest 750h here.)
The Kohler Veil K-5401-0 UV light is used only for wand cleaning. UV disinfection can be set to run every 24 hours or whenever you press a button on the remote. But this is not the only way to disinfect the wand with the veil. After each visit to the restroom, the wand is automatically cleaned with electrolyzed water.
On the other hand, almost all smart toilets use only electrolyzed water (or sewage) to clean and disinfect the wand before and after each use.
Of course, its advantage is that it adds another layer to prevent the growth of bacteria on the stick. The disadvantage is that it requires additional parts to maintain and increases the cost of things, which can be redundant.
Obviously, the dirtiest part of the tub has to be the surface of the inner bowl. If you think that regular flushing after each use is enough to remove all the waste from the drain, you are wrong.
Kohler Veil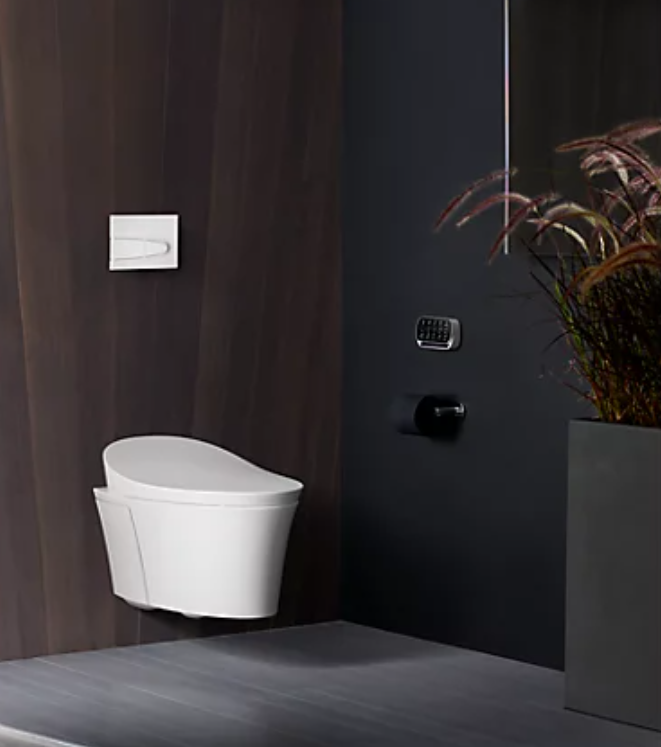 Some trash residue may have survived the wash and remained in the bowl. These leftover debris is small, invisible or difficult to detect with the naked eye, and is a source of bacterial growth.
Unless you clean the surface of the bowl with a chemical disinfectant every week or even every day, you can't be sure that the surface of the bowl is free of odor-causing bacteria.
Here, the Toto Neorest toilet bowl's post-fogging pretreatment feature can save you valuable time with your family.
Pre-fogging is the spraying of electrolyzed water onto the bowl before use. This water film on the surface of the bowl shows that each rinse can increase the removal of dirt and waste by 80%. And with the patented CefionTect glaze, it further reduces residual waste adhering to the surface of the bowl. So you'll get a clean rinse every time.
TOTO NEOREST-Disinfection of spray bowls after pre-mixing
Then comes the rinse aid, which disinfects the waste left in the bowl 25 seconds after rinsing. Over the next 8 hours, when no one was using the toilet, the mist poured again. When no one is using the toilet, it will continuously wet the toilet water during the 8-hour cycle.
Also, the front and rear fog light functions are automatic. So don't worry about losing one second of family time.
When going on vacation, don't forget to power up and let your rear fogger work. Of course, you don't want to come back to the bathroom with a bad smell after a fun vacation.
As for the Kohler Veil, it requires more cleaning and disinfecting features than just a magic wand.
Although you may be surprised by the automatic functions of these smart toilets, you should know that they all run on electricity. The main drawback of all smart toilets is a power outage. This is the worst case scenario, and it can happen even with high-end models of any range.
So most of these smart toilets have back-up drains. A device that allows you to perform one last vital flush before the power is restored.
Therefore, please note that there is no back-up update function for the TOTO NEOREST 500H 550H, you can count on the latter function.
Toto toilet
Honestly, even if there is a back-up or emergency flush, you may still need a bucket of water to pour everything into the basin.
Remember, these smart toilets are also called tankless toilets. There is no water tank that holds a lot of water for regular flushing. So don't expect the back-up to have the same upgrade capacity and capacity.
If the TOTO includes an emergency flushing system in these two Neorest models, it will need space in the bowl for the flushing mechanism. This will result in a larger bowl. So, Toto may want to keep its dimensions compact to meet the needs of those who have a small bathroom. This makes sense because most bathrooms in Japanese homes are very small.
But the Kohler Veil, with its 26-3/8-inch bowl, can afford a manual rinse on the side. That just eliminates any reason why TOTO doesn't include a back-up update for the two Neorest models. Too bad.
As mentioned in the beginning, there are 4 Neorest models here compared to the one and only Kohler Veil. And 750 hours of innovation is not in the same alliance as the veil, so you are left with three innovations.
If size is an important factor, you can separate it into two Neorest models, the Neorest 500H and the Neorest 550H. That's because the Neorest 700H is 31-7 / 16 inches long and is a regular size toilet. More specifically, the size difference is too big compared to the other two Neorest models.
So, which of the Neorest 500h and 550h matches the Kohler veil?
If you look at the specs of these two new toilets, there is almost no difference. The only way to make a choice is through your personal preference for appearance or just choosing by price.
If you like the look to Neorest 500h, you can compare it to the Kohler. The question arises. Who is copying who? Just kidding.
The advantages and disadvantages of the Toto Neorest only apply to the 500h and 550h because their size and features are considered the closest to the Kohler veil.
Last but not least, the User's Guide gives you a complete overview of how to use these features and what to do if you run into any problems.
Before deciding to purchase, it is always a good idea to read the user manual to better understand these features.
You just need to see what features are important to you and then choose the right model.