The interior of a house or apartment has a psychological and aesthetic effect on anyone. Psychologists say that the rational organization of space allows you to relieve stress, and interior design affects the emotional state. The room should be not only comfortable, but also stylish. And here we have to solve the problem of how to decorate the room, how to correctly place accents to give the room a lively look, to create in your own home a warm comfort.
To achieve your goals, it is not enough just to make high-quality repairs, using environmentally friendly materials, install high-quality furniture. After all, even a beautiful design over time can get bored, so you should pay attention to the decor. It is decorative elements allow you to add that very zest, but, as practice shows, applying the finishing touches is much more difficult than choosing finishing building materials or household appliances.
Large room
Decorating too large a space can be just as difficult as decorating too small a space, but decorating too large a room is a big deal! After all, who doesn't love a space more?
Faced with a large room, especially an empty room, many homeowners are amazed. However, decorating a large room can be fun because a large room is not limited to a small room when it comes to furniture and color palette.
But don't forget that the basic rules of design still apply! A poorly furnished and decorated large room is just as ugly as a poorly decorated small room. These big room design tips will help you decorate large, empty spaces in style.
Furniture for decorating a large room
When decorating a large room, it helps to arrange furniture to create separate spaces that work as a whole. For example, a large living room may have a conversation or TV area, a reading nook, and a small play area, but the decor of all areas should blend seamlessly and work together.
Consider the size of the room in terms of furniture. If the room is large, but with low ceilings, try to make the furniture lower so that it is higher. However, if a large room has high ceilings, the lack of space can make the furniture seem lost.
Try not to push all the furniture against the wall in a large room. This may seem uncomfortable in a large room, and in a large living room, it makes guests feel like they want to hear the sound. Arrange furniture no more than 3 feet apart to create a cozy and comfortable space.
Soft and rounded seating looks better in a spacious room than in a small, modern style or French antique. Spacious sofas and sofa chairs can add warmth to a large, cold room.
When decorating a large room, consider investing in architectural elements, such as columns or moldings, to expand and provide more space. Such elements can work more effectively than furniture to create warmth and beauty in a large room.
Decorations for large room design
Just because a room is large doesn't mean it can clutter up the room. Every element of a large room is important and you need to expand the space. Use decorative elements to keep large rooms clutter-free. Artwork can be on a larger scale, so items such as vases and flower pots are also possible.
If you have an item you want to display from a small room to a large room, consider three vases (three vases tied together, three frames, etc.). The eye can see these objects as a whole, and you can look at them over and over again. Get lost in your space.
Use decor to highlight individual spaces in large rooms. For example, you can use an old campus building column to create a family "territory." Bookshelves used as an interior divider can create a secluded reading space. Rugs are great for defining places to sit and talk.
Colors and patterns in the design of large rooms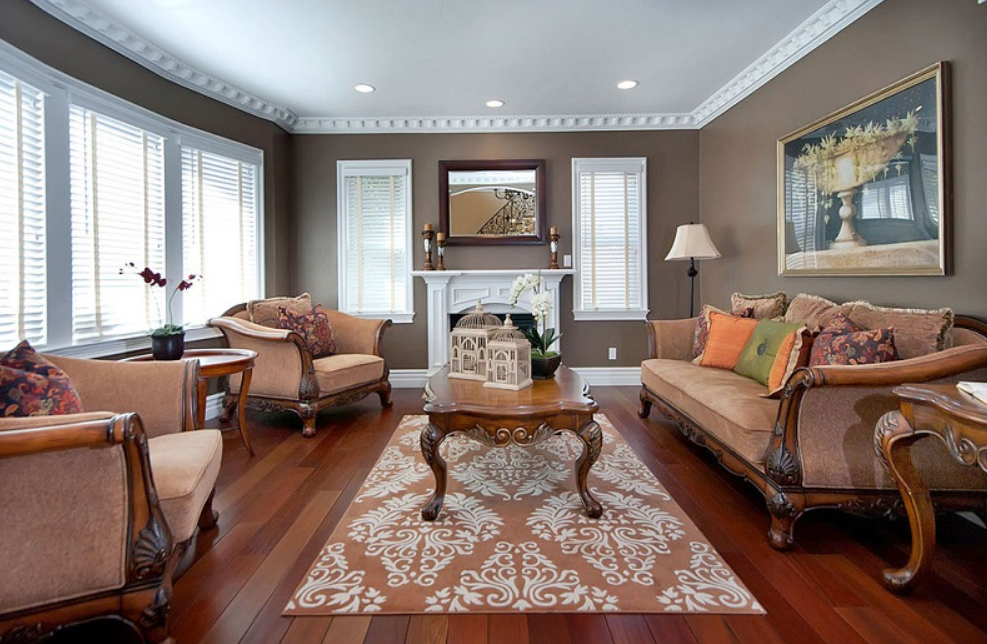 When planning a color scheme, remember that too many colors in a large room can be overwhelming, as in a small space. When decorating a large room, it's best when large basic furniture is presented in neutral tones, and accent colors are used to expand the space and create unity in certain areas of the room.
In a large room, dark muted colors can add coziness, but combining them with warm neutral hues can create bold and vibrant colors. Choose a warm white, cream or warm neutral color (such as gray) as your primary color and balance it with lighter shades of cooler tones to create a warm and bright overall effect.
By resizing patterns and textures, you can add contrast and interest to a larger space. In larger spaces, patterns can be bolder, but you can't neglect mixing and matching them. For example, combine a small plaid with a large flower and add two textures, such as natural fibers or a shiny solid color, to create a beautiful contrast.
When decorating a large room, you can paint the entire space in one color or divide it into several shades. If you're using multiple colors, find break points in the room, such as corners or architectural details (like where moldings start), to account for color changes. To create a seamless look, repeat the color of the fabric on the wall and decorate the entire room.
The festive atmosphere is created not only by the people around you and the delicious food, but also by a beautifully decorated room in the theme of the holiday. You can decorate the room yourself, spending a minimum of money and time. You can choose a suitable design from photos, videos or on the Internet. Handmade crafts and decorations will bring great pleasure to all guests.